It's summer! That means swimming and beaches and swimsuits and hot firm bodies under the sun with their chests and their abs sweating with the heat and exhaustion and oh those firm, firm bodies…
*cough* where was I? Oh right yes, anime! That medium that has nothing to do with swimming at all. Wonder how that got into my mind? The summer anime season is here. 2013 has been pretty shoddy in the 'good cartoons' department so far, so hopefully this season will bring in some firm classics. Some firm, firm classics. Firm, firm…
*cough* what ever has gotten over me?
Silver Spoon
Silver Spoon is the new Noitamina anime this season (the other being a rerun of Ano Hana because the Noitamina producer has been sniffing glue recently). It is Moyashimon as written by the author of Full Metal Alchemist. That's the single sentence description that will sell most people on Silver Spoon. The author, Hiromu Arakawa, isn't a one-hit wonder either. Silver Spoon has 1 million print runs per volume and has won a bunch of awards. It's a bit of a weird left turn for her to go from steampunk magical alchemy to agricultural college students, but it makes more sense when you hear Arakawa was brought up on a farm. That's why the pictures of herself in FMA were of a cow, which always struck me as a bit self-deprecating. Whenever a manga author draws a self-caricature, it's always some dopey little fat thing. I'd like to see a mangaka's self-caricature be some muscled dude with a giant codpiece.
While the two FMA anime were handled by the most talented folks at Bones, Silver Spoon has been handed to the way more boring people at A-1 Pictures. The director did Sword Art Online, which is hardly encouraging. While SAO's masturbation of gamers, pandering to teenage male audience, and generally being a Twilight for boys can largely be attributed to the source material rather than him, he did also have creative control over Occult Academy, an original anime which also wasn't very good. He had worked as assistant director on Girl Who Leapt Through Time and Summer Wars and worked on storyboard and script for Madoka Magica, Death Note, Monster and Michiko to Hatchin, so clearly there's talent in there somewhere.
The Sun Penetrates the Illusions
One of the few anime original projects this season, coming to us from AIC. It appears to be taking a little inspiration from Touhou and massive inspiration from Madoka Magica, which I'm down with. If what Madoka changes about the anime landscape is to make little girl otaku-targeted anime more visually creative, then I call that a big net positive. I really like the look of that trailer, little girls splayed in compromising positions aside. It's stylised and colourful that manages to not directly ripoff Shaft and be its own thing. I'm admittedly less convinced that the actual story will be any good, given that the guys who came up with it are a 3D animator and a musician. Plus having the director of stuff like Dog Days and Asura Cryin' shove that expectation down even further, but good for them for trying something visually creative anyway.
Blood Lad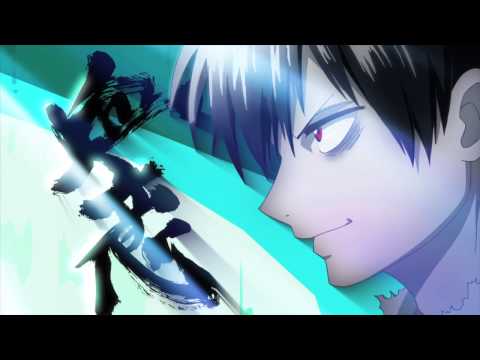 I read a bit of the Blood Lad manga and it seemed fine. Its got some clever humour to its otherwise bland vampire story. When a girl comes to the main character's vamparic realm and he calls her to his lair, the other monsters are expecting him to devour her, but the vampire is actually a massive otaku and wants to thank her for the Playstation. The thing is though, while the manga seemed fine, that's basically it. All the reviews I read of the later material said the same thing. Blood Lad is fine. Nobody seemed particularly excited by it. It's being animated by Brains Base, who don't really have an identity anymore beyond "those people whose adaptations are perfectly fine". The staff are boring too. It's really hard to get any sort of excitement up for this. Nobody ever got excited for a piece of entertainment that was just fine, unless it was an ass.
Servant X Service
You don't see too many anime about politics, do you? Well, now we have one…err, sort of. It's about a bunch of public servants working in a government office. I know, I was as shocked as you are to discover an anime title with the words 'Service' and 'Servant' in it had nothing to do with maids or butlers at all and instead was about state sponsored welfare. It's based off a 4-koma by the author of Working and/or Wagnaria. Look, I'm just going to call it Wagnaria because it's a better title. I judge a good anime title by whether it's easy to do a google search for. Servant X Service is by A-1 Pictures with the director of the offensively bland Problem Children behind it. But I suppose some strange people out there really liked Problem Children, and given I like neither 4-koma adaptations nor Wagnaria, it's pretty safe to suggest this anime probably isn't for me anyway. But hey, kudos for a 4-koma adaptation that's not about a bunch of cute highschool girls doing nothing.
Brothers Conflict
Gender equality is a Good Thing. Only religious extremists, hard-line hyper conservatives, regulars of 4chan and Reddit, and 6 year old boys think women are The Enemy. So on some level it is a good thing that recent years have seen an increase in the amount of otome game adaptations. Actually Brothers Conflict (or BroCon as I have to call it) is based off a novel, but it was swiftly turned into 2 dating sims. But yes, perhaps more of these type of anime are a good thing. This doesn't, however, address the fact that they're all FUCKING TERRIBLE! BroCon is basically genderswapped Baby Princess, an anime in which the main character has 19 sisters from age 0-19. Well, maybe not quite like Baby Princess, because in BroCon the brothers start at 11 and go up to 32. So it doesn't cover the entire paedophile spectrum unfortunately. Aiming stuff at fujoshi used to mean putting skinny dudes in spandex outfits and making them get real angry with each other, and I liked that!
Hyperdimension Neptunia the Animation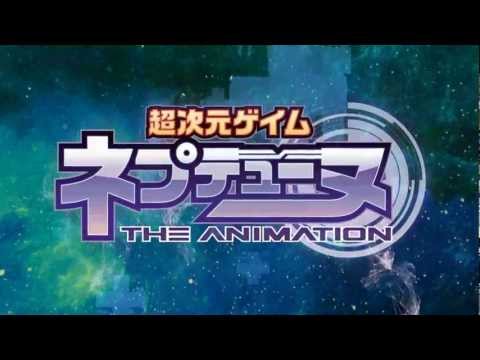 Hyperdimension Neptunia is a video game whose appeal seems to be entirely retro game references and cute girls. The reviews for the game are fairly universally bad. The positive statements I've seen made about the game include "the combat system really improved in the second game" which is irrelevant for an anime, and "the girls are cute mai favourite is xbox chan she is kawaii" which is also irrelevant as far as I'm concerned. It's being animated by David Production, the guys who did the goddamn amazing Jojo's Bizarre Adventure adaptation, so I can see why someone might be pumped to see them making an anime full of video game references. But the trailer shows none of the spark that made Jojo's come to life. It more reminds me of that other anime whose appeal lay solely in cute girls and retro video game references: Rio Rainbow Gate. Jokes about Rio creating peace in the Middle East aside, Rio Rainbow Gate is a bloody terrible anime. So sorry David Production. You guys can have fun with your cute girl thingy, but don't call me again until you're animating Stardust Crusaders.
Gifuu Doudou!! Kanetsuga to Keiji
Gifuu Doudou is a totemo kawaii manga by mai idoruu Tetsuo Hara-sensei-dono-kun, the mangaka who made the suuuuu~goku kawaii Fist of the North Hoshi. It sure does show in those sexushii character designs. That bishie on the right has eyes that's making my heart go doki doki~! It's being animated by Studio Deen and directed by the guy who did Hetali-SQQUUEEEEEEEEEEEEEEEE oh gomenasai, that always happens when I mention Hetali-SQQQUUEEEEEEEEEEEEEEEEEEEEE oh dear there it goes again. Hazukashii~! The scripts are by mai waifu Imagawa-sensei-dono-kun, who directed Giant Robo and Shin Maziner Z. That's some totemo sugoi anime desu ne~~! Nobody is translating the manga so I don't know quite how sugoi is it, but I'm willing to bet it will involve aniki's punching each other and being generally kawaii as fuck.
Love Lab
Another 4-koma adaptation by the same crew who do every other 4-koma adaptation about a bunch of teenage girls whose personalities are described in a single word. The tsundere. The meganekko. The one whose voice actor has to ingest helium before every take. I feel anything I say about these kinds of 4-koma adaptations by this stage is beating the stain on the floor that was once a dead horse, so instead I'm going to sit here and make blibble blibble noises by flicking my finger in front of my pouted lips.
blibble blibble blibble blibble blibble
blibble blibble blibble blibble blibble blibble blibble blibble blibble blibble
blibble blibble blibble blibble blibble blibble blibble blibble blibble blibble blibble blibble blibble blibble
…
blibble
Preferential Measure Organization Stella Women's Academy, High School Division Class C³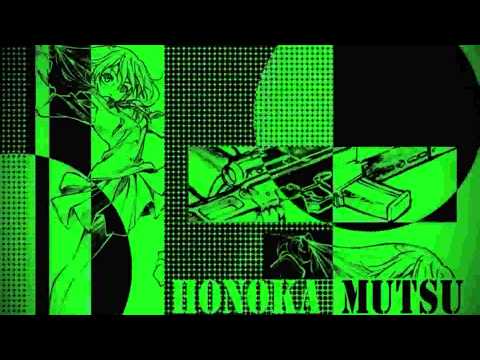 Pmoswahsdcccc is part of the long line of anime that can be described as "cute girls with X". In this case "cute girls with airsoft rifles". It's a genre I used to be pretty dismissive of because the focus is normally more on the cute girls than the X, but last year's Girls und Panzer has meant I'm now more open to them. The good signs about Pmoswahsdcccc so far are: 1) The trailer 2) err…hmmmm… The trailer is pretty great though, with some clear Cowboy Bebop influence. The list of negative signs are much longer. The manga is hardly a best seller and only has 2 volumes out, so there's barely any material to adapt. It's being animated by Gainax, who have nobody good left at them, and the director has only ever storyboarded some episodes on Dantalian.
Let's get back to that Gainax issue, namely that there is nobody good left at Gainax. Everyone who made Evangelion and FLCL left to form studio Khara for the Evangelion movies, and everybody who made Gurren Lagann and Panty and Stocking left to form Trigger. Their staff list has been completely gutted of talent, and now we're left with the people who adapted Medaka Box. It's fun to laugh at other people's failings, but when you stop and think about the fact that Gainax is now a joke, that's super depressing. 'Gainax' as a name meant something. They were this embodiment of otaku spirit, producing industry-shaking pieces that resonate with superfans. The idea that they're now some joke studio consisting of a bunch of untalented nobodies who are given some no-name manga to adapt because they're trying to jump on the popularity of Girls und Panzer is depressing as hell. Hopefully someone new will arise from the ashes of the current Gainax and start a new revolution in the same way Imaishi did with Gurren Lagann. I don't want to live in a world where Gainax is a studio on roughly the same level as Dogakobo.
Dog & Scissors
Let me float you a new theory here. One reason cited for why Japanese men like anime in which a bunch of mental deficient underage girls fall for the self-insert main character is because they find it too hard to interact with the new generation of self-confident women who don't want to conform to the ideal housewife image. This has led to the idea of the herbivore man who can't pursue women himself. However the rise of anime recently focusing on domineering women is maybe a sign that the herbivore men are starting to accept their new role in society and even beginning to fetishise their new position. I suppose that's a positive step? Anyway, Dog & Scissors is about a dude who gets turned into a dog (because we didn't want this metaphor of sexual domination to be too discreet now, did we) and is bullied by a sadistic sexy lady with a pair of scissors. It's being animated by the death rattle that is Gonzo and looks really cheap, but supposedly the novel has good sales and has even been up for some awards. So hey, you never know?
Fantasia Doll
Damnit Goro! God-fucking-damnit Goro Taniguchi! I've been eagerly awaiting the next anime by the guy who directed Infinite Ryvius, Code Geass and Planetes for a long time now, but when it finally comes along, what do we get? Some sci-fi giant robot epic? No, we get a trading card game anime with cute girls! He's not even the director, just the chief producer or something. After getting super pissed about what the higher-ups forced him to compromise with Geass R2, I figured he might get out of directing and become a producer himself. The director for Fantasia Doll is the I Don't Have Many Friends director, which is at least more fitting with the promo material. But still, feck it! One of my favourite directors is now producing card game cute girl anime. Moe is the cancer that is mildly hurting the anime industry rawr rawr rawr!
Free!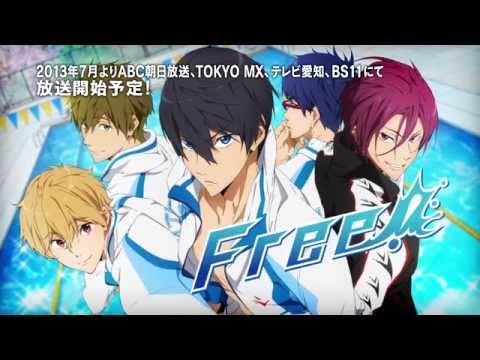 Sports anime featuring sexy dudes targeted at ladies is hardly a new thing. It's when you hear the latest version is by Kyoto Animation that you do a double take (actually it's a co-pro with Animation DO, but those are just a bunch of KyoAni staff anyway so the distinction is meaningless). Yes, it's the hotly anticipated Swimming Anime, or the woefully titled 'Free', which will make pirates searching for 'free anime' on google very confused indeed. There was a lot of hooplah made by KyoAni fanboys because their beloved studio had betrayed them because apparently they're all 6 year old boys and women are The Enemy. Besides, KyoAni has a lot of women working for them and had a sizeable female fanbase for their more recent shows. Mind you, the women watching were still a minority. There's a big difference between "surprisingly significant percentage of ladies" and "firmly targeted at ladies". Yes, very firmly targeted at ladies. Very firm, firm, firm bodies and chests and…*cough* where was I?
There was a bit of a misconception that foreign reaction to the original smexy dubstep swimming anime trailer was got it the anime, which isn't true. Even leaving aside question of why KyoAni would make an anime for a foreign audience who never pay for anime anyway, Swimming Anim-sorry, Free was based off one of the entries to their ridiculous light novel contest thing which they run every year and never announce any winners for. Free has been in the works for something like a year, and they announced the anime a month after the trailer and 2 months before it was due to air. You don't have that quick of a turnaround, although I'm sure they were delighted at the attention it got anyway. I haven't mentioned whether Free will be any good yet. Well, I'd hazard a guess at no. Oh sure it will look nice, but it's KyoAni doing some light novel adaptation about a bunch of highschool students in a club as a light comedy. Gosh where have I heard that one before? Their big new original twist is the characters are now *gasp* boys? Well blow me down and call me Sandra, what a fantastic new ide-yeah no, try harder next time KyoAni.
Danganronpa – The Animation
Or to give it its full title, Danganronpa: Academy of Hope and High School Students of Despair. It's based off a deliciously bonkers sounding game. A school has a bunch of really intelligent kids locked in by a psychotic bear who says they can't leave until one person kills another without everyone else realising who it is. The murderer then leaves while everyone else in the school dies. Apparently the games run similar to the Ace Attorney games in which you figure out who committed the murder via impromptu court trials. I'm pretty wary of any anime adapted from a game, but that premise is so inherently full of tension, a talented director could really bring ou-what's that? Seiji Kishi is directing this? Ah bolocks. The thing about Seiji Kishi is he directs a lot of anime I like but aren't well directed. Things like Persona 4, Kamisama Dolls, Humanity Has Declined, all of which get by more on their source material than the quality of directing. I'm starting to realise that maybe the guy isn't a good director after all and is just well connected in the industry.
It's Not My Fault I'm Not Popular
Not based off a light novel? With a name like that? What is the world coming to! Watamote, as I will call it from here on, has the honour of being a manga that gained its traction with western fans rather than catching on in Japan first. The manga itself proudly boasted on one of its covers that it was popular with "the English version of 2chan". Given that the impression in Japan is that foreigners pirate everything, I'm surprised it got an adaptation. I guess there's maybe a belief that us dirty foreign pirates are worth targeting after all? They haven't announced whether it will be on TV yet or who's animating it yet so it might still be some flash internet thing. Despite Watamote's light novel inspired title, it's not absolute dribble. It's essentially a story following the daily life of Frau from Robotics;Notes. Not quite as neurotic but even more anti-social. It's got that perfect cringe-level humour of watching someone awkward desperately trying to be cool, and will probably hit a nerve with anime fans because 90% of anime fans were also losers in school.
The Sunday without God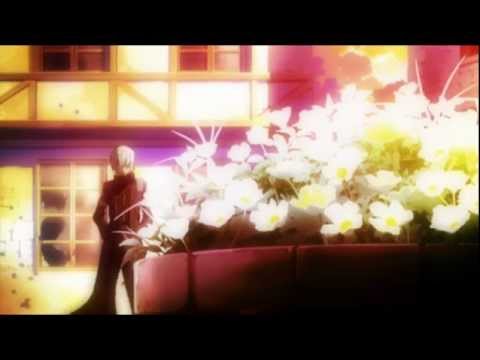 What things have changed in anime over the past 5 years? Why I'm glad you asked! One thing I've noticed is how quickly light novels went from new exciting medium with untapped potential after Haruhi, Kino's Journey, Baccano and Spice and Wolf, to embarrassingly badly written piles of incest fetishes with OreImo and Sword Art Online. Boy did public perception flip on that pretty quickly. I say this because The Sunday without God reminds me of those times when people got excited for light novels and their crazy ideas. The story is set in a world where nobody is born, nobody dies, and nobody ages and follows the story of a little gravedigger girl. I read a bit of the manga adaptation and the writing didn't seem to be as good as the premise unfortunately. It's Madhouse animating, but a not particularly good section of Madhouse with a relatively newbie director whose only previous work was one of those genderswapped Oda Nobunaga shows, which at this stage have melded into one single anime in my head. I'll admit I'm not that hopeful for Sunday without God. It has the air of one of those light novel adaptations that are forgotten as soon as they end, like Dantalian or God's Memo Pad. But kudos for an interesting premise with no incest…so far.
Ecstatic Family
Oh goody, something I can get genuinely excited about with very few caveats! The premise is utter nonsense and makes not one lick of sense. Something about a family that turn into frogs and sometimes float around in the sky. It's based off a novel by the author of Tatami Galaxy, and Tatami Galaxy had bloody fantastic writing. No Yuasa directing or animation from Madhouse this time around, so it won't be quite as bonkers as Tatami Galaxy was. It's being animated by PA Works, albeit with none of their usual staff. Instead it's a bunch of folks who worked under Kenji Kamiyama at Stand Alone Complex and Eden of the East. The director here was assistant director on Eden of the East and specifically listed as episode director for 11, which was that brilliant finale with Takizawa standing on top of the merry-go-round, shooting missiles out of the sky with his finger. To emphasise that this won't resemble any previous PA Works anime, the character designs won't be shiny-skinned pretty girls. The character designer is the Sayonara Zetsubo Sensei author, which gives the artwork this more cartoonish look the premise demands. I'm not going so far as to bank on this being great, as it's a fairly new team working together. But it will definitely be interesting.
Going Home Club Activity Records
blibble blibble blibble blibble blibble blibble blibble blibble blibble blibble
Hell Prince – Devils and Realist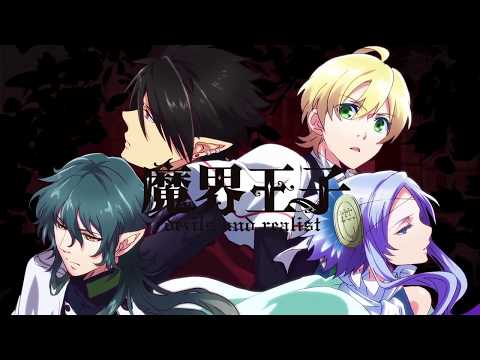 Shoujo manga seem to have a surprising amount of stories about rich pretty boys who live in mansions but are nevertheless very lonely. Devils and Realist is about a rich pretty boy who lives by himself with handsome butler in mansion and then devils get involved. And since this is a shoujo manga, 'devil' means 'incredibly attractive man in a suit with zero understanding of personal space'. The manga is full of that classic squee shot of the attractive older man gripping the chin of the naive young exploitable boy and pushing his face right up against his so it looks like he's about to plant a big sloppy one. Bonus points for having Chiaki Kon, director of Junjou Romantica and Sekai-rapey Hatsukoi, directing this one. The person who does the art for the Devils and Realist manga also writes the manga for Prince-sama. We're talking full commitment to fangirl fandering here.
A town where you live
The affectionate nickname the fans have given this one is "A town where you RAGE". The manga comes from the same author of Suzuka. I've read Suzuka but not RAGE TOWN, but from reading the frothing agony when I step into RAGE TOWN forums, I've gathered that the author took all the frustratingly stupid decisions characters made in Suzuka and decided to make RAGE TOWN consist entirely of those stupid frustrating idiotic characters and their decisions. Rather bizarrely, the staff working on it are that roving crew who made Casshern Sins, which is an incredibly odd fit. There was an OVA released of RAGE TOWN last year and that had the even more bizarre move of being directed by the creator of Time of Eve. That OVA was incredibly boring and the directer didn't use any of his trademark swoopy cameras so why they even brought him on confuses me. I'll admit I am sort of interested in seeing this if only for the director, even if a trip to RAGE TOWN is strongly discouraged by most professional medical practitioners.
Yellow Mosaic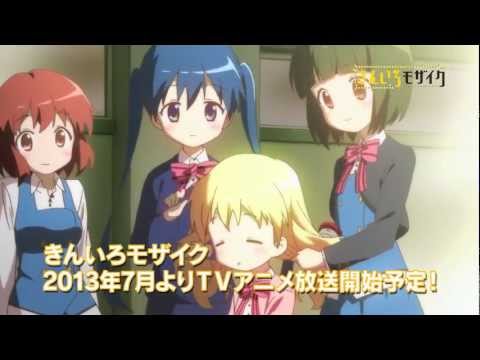 Those girls are 15. As in 15 years old, not months. 15! They look like they're 6! There's eventually going to be an adaptation of a 4-koma where all the characters resemble foetuses and yet they'll still try to convince us that no seriously, they are in high school!
…
blibble blibble blibble
Sequels?
That you don't need to have seen the previous seasons of
Gatchaman Crowds
Gatchaman is a 40 year old franchise that nobody beyond the most hopeless of nostalgia-fans care about anymore. This new anime, beyond the name and the fact they fight bad guys, has nothing to do with the previous Gatchaman series at all. I managed to find a Gatchaman forum where the fans stared on in bafflement, completely confused as to what this had to do with Gatchaman. Even Casshern Sins had Casshern in it, even if everything else was completely different. But hey, Casshern Sins was great, so let's pretend Gatchaman Crowds has nothing to do with anything else and judge it on its lonesome. It's got the creative crew from Tsuritama on it, with that mad-cap director Kenji Nakamura, who also did Trapeze and Mononoke. I didn't like Tsuritma, but this director does such weird and creative anime that I'm obliged to check out everything he makes. This completely new and totally not related to any previous anime story is about a bunch of teenagers in super-suits fighting baddies. Although given the director, it will probably have more in common with something like Penguindrum than a super sentai series.
Genshiken Nidaime
If you haven't seen any Genshiken before, don't worry! I believe you can jump in here with minimum fuss. Genshiken is about a college ani-*cough* sorry, I mean a Society for the Study of Modern Visual Culture. Most of the characters from the last 2 seasons and OVAs have graduated, with about half the cast being entirely new people. And by new people I mean new VAGINAS! Yes, Genshiken has distinctly less Y chromosome this time round, which I'm cool with. I felt Genshiken was getting a little tired and directionless in its second season anyway. What I do find off-putting is how unusually attractive these otaku girls are. Remember the original male-centric Genshiken crew? A dorky glasses guy, a fat stuttering bloke, a neckbeard, and some generic flatface everyman. There was one attractive dude, which was precisely what made him so strange amongst the Genshiken crew. I'm fine with them being attractive ladies, but not one fat girl? The one from Watamote is already more dorky looking than any of these girls.
Ah whatever, it's really not that much of an issue. I'm quite excited for this new season. It's goddamn Production IG animating this one, which will be an alarming increase in animation quality considering Genshiken 2 was absolute bottom of the barrel material in that area. Plus we've got Tsutomu Mizushima directing, hot off his fantastic work on Girls und Panzer. He's directed some shite in his time, but that shite has almost always been horror. On the comedy front he's pretty consistent. He did admittedly direct the second season of Genshiken, but new makeover and all that. I'm remaining hopeful.
Fate/kaleid liner Prisma Illya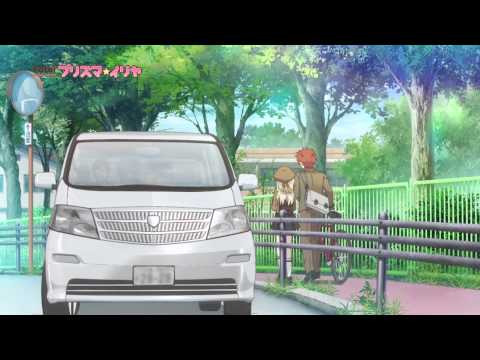 The Fate universe re-imagined as a magical girl anime. I took a peek at the manga and there was no sign of Rider or Waver, which is where my interest in the Fate-verse begins and ends. But for those who are interested, it does start with a little girl in the bath who is in love with her personality-less onii-chan and then calls him a pervert when he accidentally walks in on her. Yay.
Rozen Maiden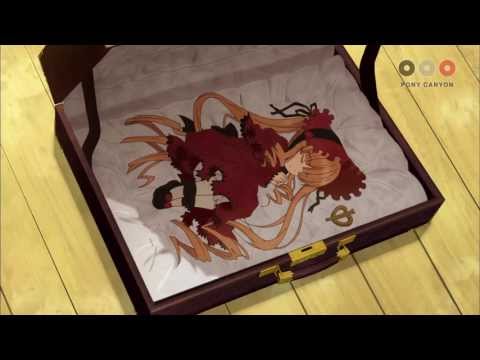 Trigger warning: Ali Project.
I'm 99% sure this is a remake, which strikes me as very odd. I know Rozen Maiden was decently popular when it came out originally, but it's not even 10 years old yet and was hardly the much beloved franchise that demanded a reboot. I didn't really like the original myself. I dug Shinku and her posh, "get me some tea you pleb" attitude, but the rest of the dolls were irritating as hell with their whining and their desu's. That said, I am super interested in this remake because it has the same director as Sankare-wait come back I can justify this! Sankarea is a terrible manga, but the anime was incredibly well directed, beyond anything I could have anticipated. He's a graduate from the school of Shaft, and while Rozen Maiden isn't great, it's better than Sankarea and isn't full of cheese shots. So I'm in, even if I'll have to develop a quick trigger finger to skip that Ali Project.
Sequels
That you do need to have seen the previous seasons of
Hakkenden: Touhou Hakken Ibun 2
I really should stop being surprised to see these otome game adaptations get second seasons. Hakkenden was an incredibly cheap and pretty bland all round, but when there's so few anime targeted at ladies, you gotta take what you can get.
Senki Zesshou Symphogear G
The only thing I wanted from the second season of Nymphogear was for the subtitle to be as ridiculous as the one the first season had.
Meteoroid-Falling, Burning, and Disappear, Then..
..AND THEN WHAT!?!?!? I needed to know! So then came the sequel's subtitle.
In the distance, that day, when the star became music
Beautiful~!
Monogatari Series Second Season
Second season you say? Even though it's actually the third TV season after Bakemonogatari and Nisemonogatari. Fourth if we count the Nekomonogatari made-for-TV movie. Fifth if we're going chronologically and include the yet-to-be-made Kizumonogatari movie that Shaft keep promising us. I pity anyone trying to get into the franchise now, considering that the proper starting point hasn't even been animated yet. I've always liked the Monogatari series, often in spite of itself. It does so many things that I would normally consider to be negatives, but puts a whole new spin on how to do storytelling that I end up being drawn in. Also toothbrushes.
Kingdom 2
I'm a little surprised this got a second season. Barely anybody seemed to be paying attention to the anime from what I could tell. It's one of those anime done entirely in CG and Japan still hasn't gotten the hang of that yet, so the few people who did check it out went "eurgh" and stopped watching. Then again, that's just us English speaking folk. The manga has won some big awards and the few folks I know who stuck with it say it's great. So maybe I should get over the CG and watch it?
The World God Only Knows 3
Never understood this series popularity. I thought the joke was supposed to be that using his dating sim tactics in real life resulted in disaster, but then all the girls in the anime turn out to be the exact same cookie-cutter girls from his dating sim and then suddenly you realise you're just watching another dating sim adaptation and then I hurl the anime aside like it will give me gonorrhoea.
Ro-Kyu-Bu! SS
This anime is for paedophiles. Moving on.
Highschool DxD New
Allow me to take a few choice quotes from the Highschool DxD light novel:
She finally takes her bra off! Her oppai which was supported by the bra are visible! I can't take my eyes off her white and huge breasts!
The light novel is rated 8:52 on MAL, the 23rd highest rated light novel on the entire site.
Because the thing which was suppressing them is gone, her magnificent breasts appear right in front of my eyeeeeeeeeeees! Why are the girls around me so aggressive and have such a splendid way of stripping! But her nipples are a beautiful pink like always!
"High School DxD is a novel that regardless of complexity or appeal is a well thought novel…the author put a lot of work in developing the characters" – says friedtofus on MangaUpdates, where Highschool DxD has an average rating of 9.2/10.
Uoooooo! Buchou and Akeno-san are wearing swimsuits, that have so much exposureeeee! Their oppai are bouncing every time they move! Asia and Koneko-chan are wearing cute looking swimsuits, with frills on them. Xenovia is wearing a swimsuit used by athletic swimmers. Looking at the girls in swimsuits sure does feed my eyes.
Highschool DxD is the 8th highest rated novel on Mangaupdates.
Oh! Kiba was eager to do this as well now! Koneko-chan smiled because she felt relieved. Crap! You look so cute Koneko-chan! I felt my heartbeat go up even though I'm not a lolicon!
"No seriously guys, why won't you listen to us when we say Light Novels are really good and how more people should pay attention to them".
Suddenly without any hesitation at all Xenovia starts removing her swimsuit infront of my eyes. Xenovia's breasts are getting expooooooooooooooosed! They're springing like Boing Boing! Th-Th-The nipple…… The nipple is a beautiful pink. Since she had offered herself to God means that no one has touched them, right…….?
Tamayura More Aggressive
Yes, it's called 'More Aggressive'. Tamayura, the fluffiest ~healing~ anime around is getting more aggressive. That would be like calling an Attack on Titan sequel ~Sparkle Kiss~!
Shorts' sequels
Recorder and Backpack is getting a sequel in case you wanted more of the 2 jokes in had in its repertoire. Senyuu is also getting a sequel, so insert incredibly lazy joke about Yamakan here. There's also going to be more of the completely random Teekyu in case you happen to be the kind of person who laughs when someone yells "POTATO MONKEY SQUIRREL". Futari Wa Milky Holmes is a 10-minute per episode thing that involves Milky Holmes that I am too lazy to do any research for so just assume all the girls act really stupid and maybe parody Precure (so in other words it's going to be Suite Precure do ho ho Precure jokes mean I'm hip and cool).
Movies
As always, I don't preview the movies that are getting theatrical releases in Japan because we dirty foreign pirates won't get to see them until they're out on home video. Instead I'm going to cover the movies that are getting home video releases in the next 3 months.
The Garden of Words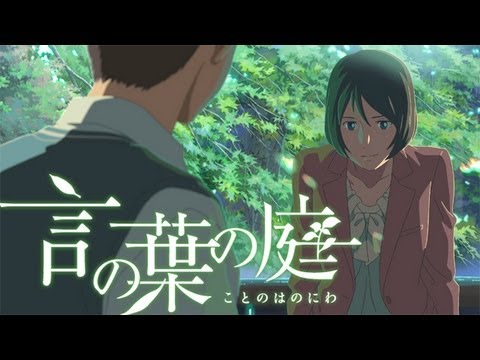 Release date: 21st June
The latest film by Makoto Shinkai, director of 5cm per Second, Voices from a Distant Star, Children Who Chase Lost Voices and Place Promised etc. Given that the promo material promises that this story will focus on the original translation of 'love' as 'lonely sadness', I think it's safe to say Shinkai is returning to his older style of movies. As someone who liked his most recent Ghibli inspired Children Who Chase Lost Voices but despises his other pretty clouds + narration + nostalgia for something we never had films, this depresses me. Children etc. never did well amongst existing Shinkai fans because apparently they want movies in which nothing happens and maybe some pictures of clouds, whereas people with good taste like myself would like some sort of fantasy epic to go with my pictures of clouds. So now we get Garden of Words, which will probably involve two people who love each other and narrate their boring lives but then at the end they don't end up together. And clouds.
Blue Exorcist Movie
Release date: 3rd July
I'd forgotten Blue Exorcist did pretty well in Japan, so it's not too surprising to see it get a film. That said, this looks exactly like one of those films shounen franchises fart out where they introduce a new character for that movie and that movie alone and it all ends up being very forgettable. I quite like Blue Exorcist, but I'm keeping my expectations in check for another shounen pap film. I don't want another FMA:B Sacred Shite of Milos.
Berserk Golden Age Arc III: Descent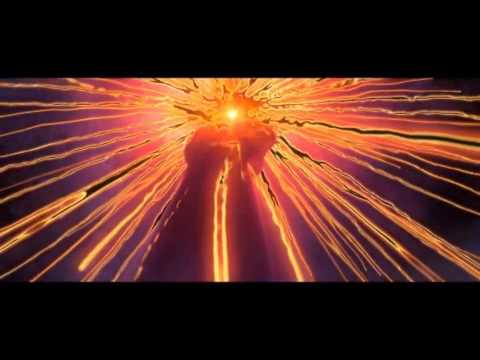 Release date: 19th June
The third and possibly final of the Berserk movies. They haven't been doing particularly well in Japan, especially considering how big Berserk is there. It's pretty obvious why: The CG. Japan is slowly getting to the point that their CG animation doesn't look embarrassing, but these Berserk films are not that tipping point. The movement is awkward, the characters still seem to float without touching the ground, and the whole thing seemed flaw from the outset. Why take a gritty dark story like Berserk and animate it in shiny CG? I saw the previous two in the cinema, and I'll probably watch this too to finish off the trilogy, but I won't be sad if this really is the last one.
Psychic School Wars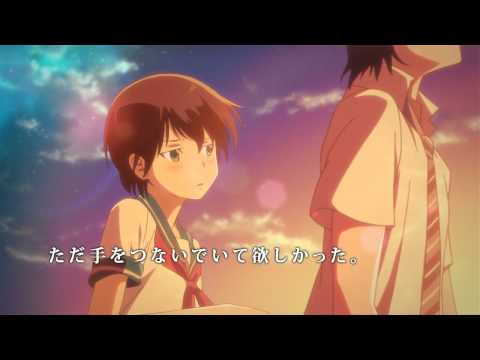 Release date: June 5th
There has already been 4 live action TV series and 2 live action movies adapted from the Nerawareta Gakuen novel, which is pretty absurd. This adaptation comes from Sunrise with a highly regarded director who did Mouryou no Hako and the Run Melos episodes of Blue Literature. I have been reading some reviews of folks who got to see Nerawareta Gakuen at film festivals, and the responses unfortunately have been overwhelmingly negative. As in hilariously bad sort of negative. Which is why I'm using the English translation of Psychic School Wars. As any experienced purveyor of dreadful anime knows, including the word 'psychic' in your title practically guarantees terribleness. Psychic Wars, Hyper-Psychic Geo Garaga, Psychic Force. Huzzah for terrible anime with the word psychic in the title!
009 Re: Cyborg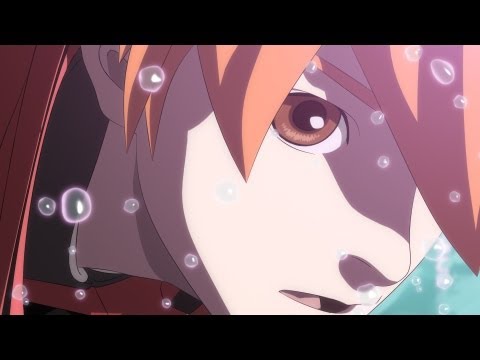 Release date: May 22nd
There are so many interesting things about this movie. First, it's a complete re-imagining of the classic Cyborg 009 manga, one of the very first anime to really make it big in Japan. Having seen the movie at a film festival, it's very much in the tone of those gritty reboot superhero movies that try to re-imagine these old icons to have relevance in today's world. Secondly, it's Kenji Kamiyama directing, the director of Stand Alone Complex and Eden of the East, one of my favourite director's working today. Thirdly, and arguably most notably, the movie is entirely CG animation. It's a co-production between Production IG and Sanzigen, the guys who did the CG segments on Black Rock Shooter.
The movie's story is hella confusing, which is why I never did a review for it. Even as a big fan of Kenji Kamiyama, I'm not entirely sure what the hell he was trying to say with this movie, although there are some very interesting points made about terrorism. However why this movie is exciting is because it is the first time I have ever been convinced by a fully CG anime (apart from Fireball obviously). It's still got some issues with collision detection and regular walking still looks a bit strange, but the characters look pretty good and some of the things they accomplish with the CG blew my mind in a way hand drawn animation simply can't achieve. The movie has been released already and I urge you to check it out, or at the very least watch that trailer. It will convince you that Japan can make CG anime look fantastic, and when you do watch it can you please tell me what the fuck it was supposed to be about.
Star Driver the Movie
Release date: 21st August
KIRABOSHI~♥
Puella Magi Madoka Magica Movies I +II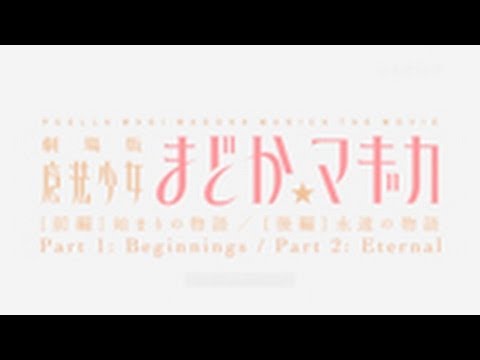 Release date: 24th July
Some magical girl anime recap movies. Looks too cutesy for me.
Hunter × Hunter: Phantom Rouge
Release date: 24th July
A Hunter X Hunter movie centring around Kurapika taking revenge on the people who murdered his clan. Yes I totally know what all those words mean. The story is based on an unpublished manga the author wrote 10 years ago. That would normally mean to me that the story wasn't good enough to be published, but it did really well at the Japanese box office so hey, maybe it is good? Then again, so does every Pokemon movie, so take that barometer with a pinch of salt.

A Certain Magical Index: The Miracle of Endymion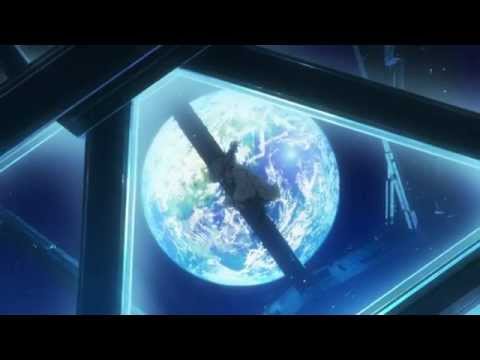 Release date: 28th August
A brand new movie in A Certain universe. It's an original story penned by the author, but the scripts for the movie are being handled by the WORST SCRIPTWRITER EVER Hiroyuki Yoshino, the man responsible for Guilty Crown, Gundam Seed Destiny and Seikon no Qwasar. I'm sure he'll be terrible and forget the entire reason anyone watches A Certain universe: Punching nuns!
Bonus point 1: Watch that gif while playing the music from the 009 Re:Cyborg trailer.
Bonus point 2: Watch that gif while playing the music from the Stella Woman's Academy trailer.
OVAs
Ghost in the Shell: Arise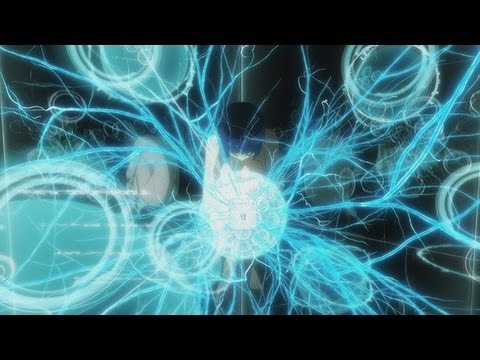 Release date: July 26th
Normally the OVA section is full of recap movies, crappy manga pack-ins that nobody ever subs, and why-the-hell-didn't-you-just-make-this-a-hentai ecchi shite, so instead I'm going to ignore all of them and focus on the one thing worth writing anything about: New Ghost in the Shell! It's an entirely new team with a new director and new writer and new character designs and everything. On that last point, I've heard some people complain about the Major's redesign, which strikes me as the pettiest "they changed it now it sux bring back the old facebook" complaints I have ever seen. Think about what the reaction would be if her character design went backwards in time. It started with her wearing a fetching red leather suit. Then she's wearing a skin-tight catsuit. Then she's down to a leotard and waistcoat. In the movie she wears absolutely nothing. And finally the manga has her engaging in cyberspace lesbian threesomes. You'd get outcry about one of anime's few powerful female icons being increasingly undermined. So fuck the people complaining about her re-design. I think her red leather jacket is quite fetching thank you very much.
I'm slightly less excited about the crew creating this. I'm fine with GITS swapping hands. If anything, I'd argue that the franchise has improved every time a new creative team took control. But the guy writing this script, Tow Ubukata, isn't really a favourite of mine. The Mardock Scramble novels are his creation and most celebrated work, and frankly I think they're a load of nonsense. Certainly his heart is in the right place, and the ideas Mardock Scramble have would be right at home in a Ghost in the Shell series, but his writing just isn't up to scratch. He also wrote Fafner, Heroic Age and Le Chevalier D'Eon, all of which have plenty of ambition but never quite lived up too that ambition. So I remain sceptical. Hopeful certainly, because I do love me some Ghost in the Shell. But sceptical.
And if this season is terrible
There's always next season