To sound like a knowledgeable season previewer, there are a couple of things you must do.
Check out the source material. It doesn't matter how much of the source material you check out. This is just to flaunt your superior knowledge over those who don't know any better
Throw out the names of the animation studio. You don't even need to know what having that studio on board entails. You can just say "this is done by Studio X and we all know what that means". That way you can make readers feel inferior when they don't know what it means.
Name drop staff members, mention what else they have made and say that you "expect something similar to that". The great thing about this is that you don't even need to have seen what else they've made. Simply saying their name will instantly make you appear like an expert.
List the voice acting cast, if you are an idiot who thinks who voices the characters has any say on the eventual quality of the anime.
Be aloof and mildly dismissive about everything, apart from something extremely obscure you know nobody else has heard of. Good targets for this is are kiddy shows, or sequels to incredibly obscure shorts.
To illustrate my points, here's a season preview I prepared earlier.
Appleseed XIII
Appleseed is a manga by Masamune Shirow, who you may know as the guy who wrote that little known manga Ghost in the Shell. This is the third attempt to animate his manga, if you discount the TV series from a few years back that got cancelled before it even got off the ground, and again they've gone for the full CGI route, in what appears from the trailer to be a similar style to that of the Koisento and Norageki OVAs that came out recently. This is Production IG combining with Shirow, the same combo that brought Ghost in the Shell Stand Alone Complex. Thing is, Production IG have their A-Game, but no B-Game. They instead drop straight to Shit-Game, and this appears to be the latter. Director is the twat who made the wholly uninspiring Moshidora and that laughably bad Prince of Tennis movie. Also, in making Appleseed Ex Eye Eye Eye, the production company (as in, not the animation studio) went bankrupt, which leads me to believe that perhaps they couldn't animate this as well as they might of liked.
Natsume Yuujinchou San
Natsume Yuujinchou San is the third season of  Brains Base's manga adaptation, following the story of girly boy Natsume and his incredibly easy to animate cat, Nyanko. It's generally a pretty well loved anime, and I'm rather fond of it myself, but I do have a problem with this third season. That is, it didn't need to be made! Sure, there's more material to adapt, but Brains Base are sitting on several other properties that need another season far more than Natsume does. Where's that Durarara sequel Brains Base? Or Jellyfish Princess? Or Baccano? Or Spice and Wolf? But no, instead of making a Baccano sequel, you instead toss out another Natsume. I probably shouldn't complain over the fact that a half-decent anime got a sequel for a change, but Brains Base are sitting on so many properties that could do with a sequel. Natsume didn't need one!
The IdolM@ster
From here on I'm not going to write out titles with stupid symbols or random punctuation in their names. So, Idol Em-At-Ster is an Xbox game where you manage the careers of a bunch of young aspiring female idols. The game is known for its rather scary otaku-fanbase. You know, the ones who rip up their Kannagi manga when they find out she may have possibly touched a man some time in the past 100 years. Those who send Aya Hirano death threats because she likes men, yet still keep their cum-encrusted face towel of her under their beds. Not that all Idol Em-At-Ster fans are like that, but when there's a massive outcry because the latest game has men in it, it does skew your perspective some what. The franchise is basically a platform for voice actors to try propel their own idol careers, as evidenced by the fact they released the cast list before the studio animating it. Interestingly, on that note, while the studio is listed as A-1, a bunch of the staff worked on various Gainax products. That means there could be some eye-candy performances here to make up for the lack of other important things, like script, or plot. But hey, there might be dancing, and I approve of more dancing in anime no matter how I can get it.
Blood-C
Blood hyphen See (or is that a minus sign?) is from the Blood franchise. It's about a stoic Japanese school girl (stoic here meaning 'has no personality whatsoever') defeating evil monsters with the combination of a katana and a near panty flash. Despite what that description may sound like, previous installations of the franchise have bee aimed more at girls than guys. Saya, the aforementioned dull protagonist, is the character teenage girls can project themselves into as she kicks ass and is surrounded by beautiful sparkly bishies. Honestly though, the previous instalments of this franchise haven't been that bad. The original movie, Blood: The Last Vampire, was a fun little piece with some neat animation. The TV show, Blood Plus, was slow in parts but had some great character development with some of the side characters. Blood hyphen See is being written by CLAMP, a device for holding items firmly in place, but also the pseudonym for talented bunch of manga authors who wrote the likes of Cardcaptor Sakura, Chobits and Tsubasa Chronicle, and the director is a decently talented bloke who worked with CLAMP before on XXXHolic and Kobato. Mind you, probably the best thing of all here is that you won't have to have seen any of the previous instalments to get this version of the franchise. Blood Plus certainly didn't seem too pushed about acknowledging the original movie either.
Baka to Test to Shoukanjuu Ni!
Baka to Test to Show-herpyderpy second season, is back! Same staff as last season, which means it's still a bunch of Shaft rejects, and that rather showed in the animation. It was still more imaginative than most of the awful attempts at light novel adaptations about the perverted hijinks of a group of teenagers, featuring a trap, but the main problem is that it didn't really have anything beyond its stock set of jokes. Hideyoshi is a man who looks like a women. Lets keep going with that joke the entire way through the series with no variations on the joke. Heck, that was one of the funnier jokes this show had! If another  season of the same batch of repetitive jokes is what you ordered, then knock yourself out.
Ikoku Meiro no Croisee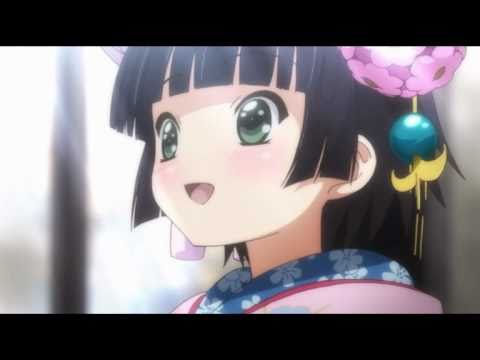 Ikoku Meiro no Croisee is one of those Light Novel adaptations that follows the Gosick route of thinking that placing your young female protagonist in the 19th century is a great idea. Not because you find the social political status of the bourgeois in that era a fascinating area of study, but because that means you get to dress the girl in elaborate gothic dresses accompanied by men in top hats. And hey, who am I to take that joy away from them. Besides, the little girl in elaborate dresses being taken out of her natural environment is the plot description of Kurenai, which is pretty awesome. The trailer did little to impress and the director's only previous work is the super fluffy duffy Shugo Chara. I did read the manga though, and…OK, it was cute. Manipulative, but even to me, with my heart of stone and veins flowing with malice, gave a little daww at the girl.
Itsuka Tenma no Kuro-Usagi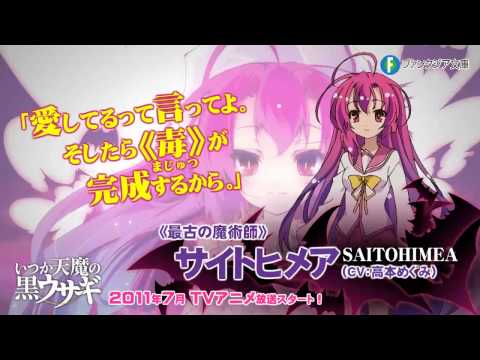 Itsuka Tenma no Kuro-Usagi is a great example of plot description that might have sounded interesting in the hands of, say, Madhouse or Brains Base, but you know will suck because of the studio involved. Well, not suck. The studio in this case is ZEXCS (all caps, so you've got to shout the name) who have this remarkable ability to turn anything they touch into utterly average. Awesome sounding sci-fi fighting series like Chrome Shelled Regios? ZEXCS bring it down to average. Horrible sounds pachinko game based story about loli mermaids? In come the ZEXCS and suddenly it's a strangely heart-warming little series that yet still manages to only reach average. The trailer was rather proud of its totally unique attraction of underage girls camel-toes and fixed the camera on one for about 10 seconds, yet somehow I bet ZEXCS will still be able to drag this up to average. They're a magical studio in that regards.
Mayo Chiki
Mayo Chiki is a light novel adaptation about the perverted hijinks of teenagers, featuring a trap! Boy, we sure are rolling in originality here, aren't we? I'll keep this brief. The original Light Novels idea of a joke consists of the characters calling each other perverts (that is, if the manga chapter I checked out is similar to the LN), combined with an animation studio that only ever makes generic fanservice anime. Come here if you are devoid of taste and allergic to innovation!
R-15
Ruh hyphen fifteen is a light novel adaptation about the perverted hijinks of teenagers. No trap in sight as of yet, but he's probably introduced in chapter 3 or something. This shows claim to fame is that the protagonist is a teenager who writes porn novels, therefore every single jokes in the show will revolve around characters calling each other perverted. Are you tired of quality titles with clever writing and original concepts? Then Ruh hyphen fifteen is just for you!
Dantalian's Library
Dantalian's Library is by the animation studio Gainax, who previously made Gurren Lagann, Eff Ell Sea Ell, Neon Genesis Evangelion and so on. "Hurrah" you say? "Wrong" I say! For this is crappy Gainax! The ones who make Corpse Princess, He is My Master and Gunbuste-ARRGHH- I mean This Ugly Yet Beautiful World. In fact, it's not even those people. This is made by a bunch of utter newbies who's only connection to Gainax is they once delivered takeaway pizza to their studio. The manga is about a generic male lead being put in charge of a little girl with some sort of importance, a synopsis that has become a genre unto itself lately. It's written by the same guy who wrote Asura Cryin', and the first chapter of the manga adaptation I read certainly followed a lot of the same cues as that one did. That is, it throws out a load of plot twists that make no sense whatsoever to try keep your attention in the lack of any actual well-written content.
Nurarihyon no Mago 2
Nuh…nura…Nuranom…fuck it, Nurarara second season. A shounen manga adaptation by the same guys who make Naruto and Bleach. In it, a generic male lead transforms into a unbeatable bishie with ridiculous hair. So kinda like Yu-Gi-Oh, except without marketability. I gave the first season a shot, but asides from the ice-girl with the cool character design, none of it really caught me and I dropped it after 4 episodes. But hey, if you like painfully generic shounen, then knock yourself out. In its defence, it did have a neat ending song, and there's definitely worse stuff out there.
Kaitou Tenshi Twin Angel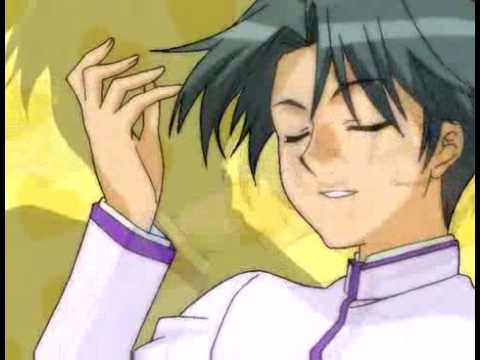 When it comes to new anime, you can often tell who the prospective audience is by what information they release first. Studio? People who care about the animation quality. Staff behind directing and script? People who care about plot and writing. Voices cast? People who care less about the writing and like to follow their favourite voice actors. In the case of Kaotou Tenshi Twin Angel, first information released alongside the announcement of its creation was that the first volume would be bundled with a dakimakura featuring the 12 year old protagonist. NEXT!
Blade
You know, I'm rather pleased Blade has arrived. With this, we can finally say goodbye to this dark era in Madhouses animation history. This is the last of the Madhouse Marvel collaborations, of which each and every one have been awful. Some people claim that they have been getting steadily better, but I sure as hell saw no difference in quality between the Ironman and X-Men anime. Thankfully, Blade is the last of this era. Good riddance, I want the old Madhouse back.
Kamisama Dolls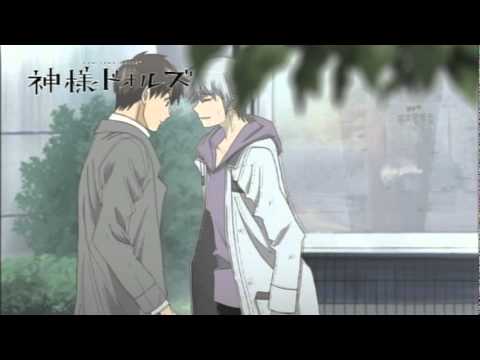 I checked out the first chapter of the manga for Kamisama Dolls, and it is legitimately good stuff. Great artwork, engaging story, the main characters are college students and not 15 years old for a bloody change, and the Dolls in it are these big creepy fuckers who kill people. Combine this with the animation studio Brains Base, whose previous work includes Baccano, Durarara, Jellyfish Princess and so on, and you'd think you have a combination for success. That's until you realise the actual talented staff from Brains Base are all working on that Natsume sequel. The staff working on Kamisama Dolls previous works include Akane Iro ni Somaru Saku and Seikon no Quasar. There are few lines in existence more depressing than "from the creators that brought you Akane Iro ni Somaru Saku". The director previously worked on Seto no Hanayome and Angel Beats, two series that rather split opinions, but I believe we'd at least all agree that their strong points are the comedy, which Kamisama Dolls most definitely is not. The trailer linked certainly showed glimpses of that rather creepy chapter I read, but the other trailer is perhaps less inspiring. To be honest, I'm rather pissed off at this. Kamisama Dolls is a Good Manga and Brains Base are a Good Studio, but instead of putting their talented staff on either a prospective good new show, or a previous show that desperately needs a sequel, they decided to make yet another season of Natsume. Damnit Brains Base! Ah well, maybe the strength of the source material will bring out the best in these guys.
Sacred Seven
Sacred Seven is Sunrises latest original animation production featuring rollerblading mechs and a bishie male lead gaining some sort of super power from a girl in rather tight clothing. Sound familiar hmmm? Mind you, it's not like Sunrise need much pushing to copy their already previous popular franchises. Aren't these the same guys who have rehashed the Gundam franchise so many times now that they're even running out of silly names to give the villains (did they seriously call a character in Gundam Unicorn 'Full Frontal'?). But who am I kidding. I loved Code Geass, and more of the same sounds cool to me. The director may not be quite at the same level as Goro Tanaguchi, but he's worked on many good anime in the past, from Infinite Ryvius to Trigun. In fact, one thing I did notice was that he storyboarded 2 episodes in Xam'd, which was promising anime that rather fizzled out. However, the episodes he directed were 6 and 10, which just so happen to be two of my favourite episodes from Xam'd. Also I happen to spot Yuki Kajura's name on the opening song, otherwise known as the Madoka Magica music lady. There's some good talent behind this show, even if it appears just a touch derivative.
Nekogami Yaoyorozu
Nekogami Yayaya-something-zoo is the one new anime from this season I'm having a hard time pinning down. It's based off a comedy manga that I could find no translations of. The studio, AIC plus, are a spin off from AIC (this is the kind of investigative journalism you've come to expect from Scamp) who generally only do fanservice crap, but there's no signs of fanservice in this one whatsoever. It's about a bunch of cat gods chillin and drinking sake. You know, like cat gods do. The director did Cromartie High School in the past, which is a massive plus and about the only thing I can find to say about it. Looks a bit meh to be honest, but you never know.
Manyuu Hikenchou
Manyuu Hikenchou is about the Powah of Breasts! No really, that's the entire plot of the show. In a samurai era, where a women's status is judged by their breast size (so not a whole lot different from today then ho ho obvious joke). It would be rather refreshing to see a show throw aside all pretensions of being anything other than a boob fest, if we didn't already have Ikkitousen, Queens Blade, Seikon no Quasar and so on.
Uta no Prince-sama –
Maji Love 1000%
Uta no Prince sama hyphen Maji Love One Thoooouuusand per centah is the opposite end of the spectrum to Manyuu Hikenchou, and that's not the quality spectrum we're measuring here. One Thooouuussand per centah is based off a dating sim aimed a females in which you date anyone of these beautiful men who are all aspiring idols. Beautiful men, in this case, meaning men who are so effeminate they could enter the girls toilets without anyone batting an eyelid. It's generic souless fangirl bait trash, the kind that releases a drama CD so you can listen to your characters soothing voices as you shlick yourself to sleep.
Ro Kyu Bu
Ro Kyu Bu is for pedophiles. Moving swiftly on
Kami-sama no Memo-chou
Kami-sama no Memo-chou is about a NEET detective girl. It's based off a light novel, so I took a look at the manga version, and it was…all right I guess. That is, until I realised this was being adapted by JC Staff and it all finally clunked into place. Light Novel adaptation featuring generic male lead meeting a flat chested high school girl with super powers. OK, this time she's a genius detective, but same difference. This is the same show JC Staff have been making for the past 6 years. Ho hum nothing to see here.
Bunny Drop
Bunny Drop is about a male lead taking care of a little girl. Again. Except this time it's awesome! Seriously, the manga to this is brilliantly written. It's like Yotsuba Ampersand Exclamation Mark if Yotsuba was po-faced instead of hyperactive, with a minor touch of Honey and Clover. It's also airing in the Noitamina timeslot, a timeslot dedicated to hosting anime that don't suck. It's previous occupants include Eden of the East, Nodame Cantabile, Tatami Galaxy, Ano Hana, Jyu oh Sei, Shiki, Honey and Clover, Trapeze, Jellyfish Princess, Paradise Kiss exetura exetura. The staff are generally a bunch of nobodies, but hey, the source material is rather simple and hopefully shouldn't be too hard to adapt.
No.6
No Dot Six is the other Noitamina anime from this season, (Eden of the East, Nodame Cantabile, Tatami Galaxy, Ano Hana, Jyu oh Sei, Shiki, Honey and Clover, Trapeze, Jellyfish Princess, Paradise Kiss exetura exetura). This time it's a high concept sci-fi series. The intelligent live in the best houses and get all the money while those who aren't live in shitholes. The manga is well written and the concept competently executed, even if it's got quite a bit of BL fodder. The male lead spends an awful lot of time commentating on how beautiful the other male characters eyes are. But hey, at least that means they're actually trying to characterise them and build their relationship, which has often been my problem with sci-fi series. In particular my problem with the other Bones anime in the Noitamina timeslot, Jyu-Oh-Sei. Too much concentration on the scenario and too little on developing the characters. Not that Jyu-Oh-Sei is a bad show. It's just I had a hard time caring about the characters and I have the strange feeling the main draw to watch each new episode was so I could hear the strangely catchy OP song again.
Yuruyuri
Bunch of girls being insufferably nice to each other while making suggestive lesbian advances to a background to tinkly piano music. In short, this is my cryptonite. Get it as far away from me as possible.
Morita-san wa Mukuchi
I watched the OVA to this that came out a while back. The production values look to have been funded by a half eaten pack of hobnobs, and the plot was girls being insufferably nice to each other while making suggestive lesbian advances, but it approached the presentation in such a laid back manner that it wasn't detestable. Not that I plan to watch it or anything. I'm just saying it's not going to make me want to hurl my laptop out the window.
Nyanpire the Animation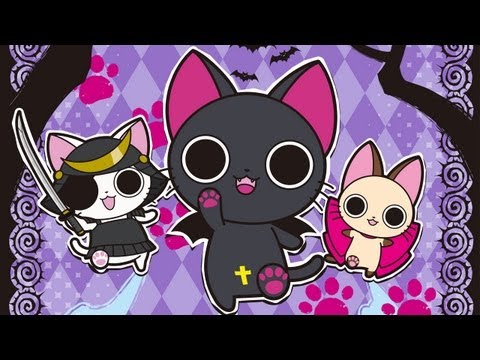 Gonzo make their glorious return! Quick crash course in Gonzo history. They were a big animation company in the early half of the 00's. They made some pretty great anime, from Last Exile to Gankutsouo to Full Metal Panic. Yeah, FMP wasn't originally Kyoto Animation. They made the the second season, while they were part of a joint production with Gonzo for Fumoffu. But then Gonzo started to make an awful lot of crap. From Dragonaut to Shangri-La to Rosario to Vampire, they poured their money into increasingly shitty projects that made them no money. They eventually bowed out, totally bankrupt, in 2009. The last anime they made was Strike Witches. I'm not sure which part depresses me more. That their last anime was about little girls flying around wearing no pants when 4 years before they made Gankutsou, or that Strike Witches actually sold pretty well. But anyway, they're making a slow recovery with…eerrr, Nyanpire. Not quite what I was hoping for, but it's probably better that they leave their little legacy alone from here on. Unless, by some miracle, their new Last Exile project somehow ends up being anywhere near as good as the original. I'm not holding out too much hope for that though
Mawaru PenguinDrum
The last one on the list has next to no information on it whatsoever. No character art, no studio, no trailer. We've got nothing apart from the name, that it's 24 episodes long, and that above promo pic . Oh, and that the director is Kunihiko Ikuhara, the director of a little show called Revolutionary Girl Utena. After almost 15 years doing nothing but the odd OP storyboard, he's back with his new project. Whatever it is. What's bugging me is how little fanfare there is to this. If this really was such a big deal, why do we still not have even any character art? Where is the hype building? This is not just an impatient blogger looking for info. This also shows the studios own confidence in their project. Or maybe they're just being coy and trying to build interest by not revealing information. Eh, we'll see, but after 15 years I kinda hope this guy has something worth waiting for.
Movies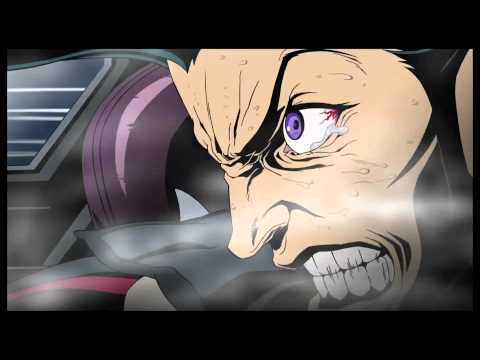 Obligatory reminder that we won't see upcoming anime movies for several months because theatrical releases can't get subbed until they're released on DVD and Blu-Ray. So, while there's some fascinating movies coming out (in particular the Towa no Quon movie series by Bones), I'm instead going to look at those movies coming out on DVD in Japan over the next 3 months.
The Break Blade series finale is on its way! Episode 5 is out 27th May while episode 6 is out 22nd July. Hopefully they'll be better than the rather lame 4th episode was and return to the quality of the first 3. The second Macross Frontier movie is out 21st May, so even more vaguely hoping they show Sheryl's boobs. Yeah, sorry, but I wasn't all that taken by the first film. There's some Bleach movie on 24th August, because there's always another shounen film coming out. More interestingly, that latest Ghibli film, Arriety, is finally making its way onto DVD. Thing is, it's going to be making the rounds at movie festivals around where I live, so I'm probably going to wait to see it on the big screen. Still, for those who don't live near any anime movie festival places, you finally get the chance to see it. Speaking of film festivals, the first of a planned 3 Mardock Scramble films is coming out 24th August. I saw the film a while ago at an anime movie festival and I wasn't quite taken with it, but I'd be interested in hearing what everyone else thinks of it.
You know what else is finally coming out though? 2+ years after its first release in movie festivals? Finally making its way to the DVD and BD market for the entire world to see (even if most of them will see it illegally). Redline. 10th August. Remember that date.
OVAs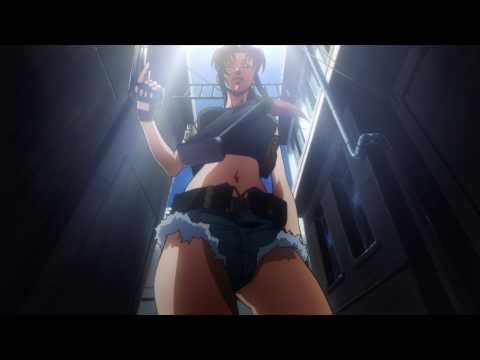 OVA land is rather barren this season. The rising number of DVD specials is cool, but they're a light snack rather than something worthwhile. For OVA's with actual plot-worthy content, there's the last episode of the Black Lagoon: Roberta's Trail, which has been typical Black Lagoon so far. There's another Higurashi OVA, although having only seen the first season, I couldn't tell you what this is supposed to add to the story. Hellsing Ultimate is finally returning, for all those of you who liked Hellsing but wanted less style, character depth and interaction, and more mindless gore and endless repetitive speeches about how great war is. There's Saiyuki Gaiden, which I know nothing about beyond the boys in the promo picture are incredibly beautiful.
For original OVA's, Katte no Kaizou is a Shaft adaptation of a manga that Sayonara Zetsubo Sensei copied the style of. Hence it will just feel like a rip-off of SZS, because this is Shaft's excuse to make more SZS without having to actually use any material from SZS. Finally, there's Baby Princess, whose implications of the plot synopsis I didn't realise until I visited the homepage. 19 girls, from ages 1 through to 19, all in swimsuits. One for every type of paedophile!