I believe this is the face of the many tuturu~ fans during this episode. Or maybe Okarin is just really shocked by the ground suddenly turning 45 degrees. Oh wait, that's just yet another Steins;Gate dutch angle. This anime sure likes putting in dutch angles, don't they?
I think anyone with half a brain cell knew that a simple fact like Mayushi dying in the last episode wasn't going to remove her from the show. A plot so centred around time travel obviously wouldn't let a simple fact like death get in the way of its favourite moeblob. What I didn't expect was her to keep dying. Or more accurately, Mayushi dying being inevitable and unavoidable. You cannot fight fate. The second time Mayushi died was by the hands of Shining Finger yet again, so I thought that was down to Okarin not doing a particularly good job of protecting her. But the third time was a total fluke. Pushed in front of a subway by a little girl. That is no coincidence. More importantly, that was not something cooked up by CERN SERN. If it was anyone else who shoved Mayushi, I could have believed they were a secret agent or had been bribed or something. But not Mr. Brauns daughter. She is the only character in the series who would be incapable of such a thing. There's no human forces at work here. This is the job of fate. The Death of the Tuturu must remain, no matter how many times you try.
Yes, all you Mayushi fans. No matter how much shipping material this episode might have given you, she will never survive. Ever. Not a chance. She's dead. Hit by a train. A friggen train!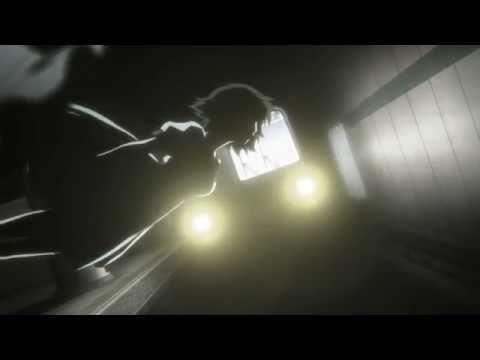 I'm not quite sure why I find this quite as funny as I do.
Sorry, but I will never care about Mayushi. Sure, the effect on the story is massive and I care about that. I care about how it effects Okarin. But Mayushi? She's too bland and not much of a personality. She's a moeblob. A plot element, used to effect the story. Which in itself isn't such a bad thing. Madoka got by with its entire cast being nothing more than a gathering of plot elements with limited to no appeal as actual characters. But caring about her getting hit by a train because it's Mayushi? Nope. I'd care if Okarin or Kurisu got lopped off. In fact, Kurisu did get lopped off, but they had already started to go back in time then.
…actually wait a second. If Kurisu died in the first time string, like Mayushi, does that mean she's destined to die too? Heck, she was the very first character to 'die' in the series, if you count that dead body in the first episode. Noooo, it can't be! We're given too little information at the moment to make such prophecies. But the fact that Mayushi has to die is impossible to dispute. Unless you really think Mr. Brauns daughter is a double agent.
The face of deception.
Speaking of Madoka Magica, I'm sure many of you made the comparison between this latest episode of Steins;Gate to Madoka. Except for those crazy ones amongst you who have yet to watch Madoka. In which case, what are you waiting for? Get on that now! Well, there's also the crazier group of people who don't like Madoka, but I prefer not to talk about them. Anyways, Madoka spoilers from here on.
And hey, since we're talking Madoka.