51. The Epic of Zektbach
What is it?: One country invades another, as countries are wont to do. At home, one country's defense is led by a female warrior, Shamshir, who has a sword that allows her to use the power of mathematics and chemistry (or maybe Assassin's Creed) to slice and dice people good.
What?!: The sword is one of those asshole swords that actively corrupts those who use it, unless they're The One.
Terrible CG: And lots of it!
If I could get away with just using, "zzzzz" as the entry for this, then I would. There's zero reason to give a shit about anything that happens here: the kingdoms are utterly bland, the conflict is barely existent, and the individual soldiers are lifeless. Shamshir may as well be slicing up cardboard cutouts rigged to spray blood when they're hit. I'm not even one of those people who is totally against mindless violence. I just need a reason to give a shit. Is Shamshir as cool or interesting as any other random warrior in anime? Not really. Bleh.
52. Urda
What is it?: During World War II, the Nazis have a plan involving future technology they have snagged. Two agents, Erna and Janet, team up to save two people who were sent back into the past along with the technology. However, they are opposed by notorious one-eyed Nazi Glimhild Kurtz.
What?!: Mona Marshall gives Glimhild perhaps the most absurd German accent I've heard in anime.
From the makers of Catblue Dynamite: Except not nearly as enjoyable.
Urda's greatest problem is that it takes itself far too seriously. You wouldn't think this would be a problem for a series about time travel technology and a one-eyed Nazi as its main villain, but there you go. It's cut from much the same cloth as Catblue: A plot that feels like it's cobbled together from video game cutscenes, lots of loud set pieces, etc., but that sense of self-seriousness casts a pall over the story. It would help if the story were interesting rather than just audacious, but no. I suppose the twist at the end is OK; not really a game changer, though. It's worth watching for that ridiculous German accent, though.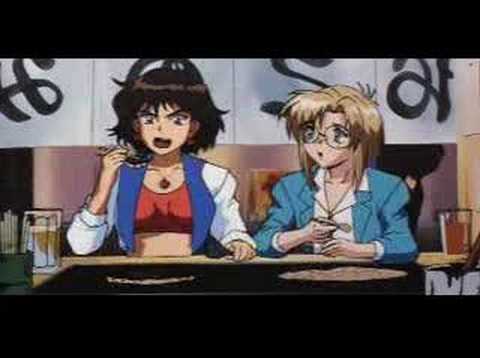 53. Gundress
What is it?: The Angel Arms Company protects Japan from terrorists, but they find themselves guarding an evil crime lord in the hopes that he will give up information leading to the downfall of an international terrorism ring. And they spaz out while eating dinner.
What?!: I can't think of anything crazy to put here, because this is boring.
Zzzzz: zzzzz
If every vaguely cyberpunk anime movie where characters kick ass against ultracorporations/evil governments/terrorist rings were arranged into a Bell Curve, Gundress would be smack dab in the middle. It has all the normal beats and none of the style of the really good ones, but it's not so terrible that it's among the worst. (The version I watched must have been cleaned up at some point, because that spazzy animation was not present during that scene.) Unfortunately, unmemorable terribad is no terribad at all.
54. Hanappe Bazooka
What is it?: Horny demons visit a school boy and grant him the power to drive women into frenzies of lust in exchange for doing it with the kid's mother and sister whenever they want. He is not happy about this.
What?!: It's Go Nagai. There's too much I could put in here.
Way too much: Way, way too much.
Hanappe Bazooka is one of those Go Nagai titles I could have seen myself actually digging if it were executed a bit better. It's so dumb and juvenile and ridiculous that it should be sort of fun for its own sake, but there's such an overload of insanity and sexy times that my mind broke. I can sort of admire Go Nagai for daring to put the most puerile stuff to page and running with it for a career that has lasted for decades, buuuuuut this I just could not get into, though I didn't hate it quite as much as some of my terribad comrades.
55. Iron Virgin Jun
What is it?: Jun is to be married on her 18th birthday, but she's not going to stand for that, and instead defies tradition by running the hell away from all this. Her psychotic mother sends deviant, bloodthirsty goons after her precious daughter, but Jun beats the crap out of them all.
What?!: Penises are power tools.
Final boss: The spirit of Jun's grandmother.
This might seem weird after what I just wrote, but this is a Go Nagai work I couldn't get into because I found it too boring. The normal Go Nagai antics seem relatively tame compared to what he usually throws into the ether. The overall story isn't nuts enough to make up for that, either. It's just characters you don't really care about beating a conflict that doesn't really matter. Yawn.
56. Prayers
What is it?: In 2014, Shibuya becomes an independent nation, but it is cut off from many necessities, and the youth of Shibuya struggle to live. People called Prayers pass the time by engaging in deadly musical games where sound waves are converted to electricity and connected to the brain — whoever survives, wins.
What?!: It's not just instrumental music, either — singing also kills.
Faux Ranka Lee: She proves what would happen if Ranka were to release an album: People would listen to it, their brains would turn to mush and they would die horrible deaths.
Prayers was conceived as a four-episode OVA but was canceled after two episodes, and boy does it show. There's clearly some sort of path the OVA intends to trod, with the shadowy figures lurking in the background while the kids in Shibuya work through their silly personal dramas and whatnot. You don't get Norio Wakamoto to voice a villainous figure if you don't intend to go somewhere with it, after all! But because there's no real conclusion to this story, all that stuff looks like nonsense, and thus we're left with the story of dumb kids who engage in dumb, murderous games for dumb reasons. I guess this Prayers stuff is what replaces Chicken and the like since teenagers need to be self-destructive. The first episode is mostly introduction, and the second tries to build an emotional story with a childhood friend of some sort who is so obviously going to be the opponent in the concert at the end that she may as well have carried a sign with "Faux Ranka's singing is going to make my head explode" in big, bold letters.
57. Roots Search
What is it?: A group of scientists roam through space in their spaceship and come across a wounded man. After he heals, he informs the crew that an alien is after him, and they have to kill the alien before it kills them. The alien has psychic powers that drive people insane with their guilty fantasies before it kills them.
What?!: The ending involves the two main characters dancing around naked and going back into the spaceship, their fates ultimately unclear.
Vagina alien: I should probably have censored that screenshot.
Roots Search isn't merely a ripoff of Alien. It's more like a ripoff of a knockoff of a plagiarized script of Alien. If you think the story sounds like it could be decent in spite of that, well, you will be disappointed. The OVA is 45 minutes and feels three times that long, except the languid pacing isn't used for anything remotely resembling character development, world building or entertainment. And the movie is just straight-up ugly. Not like "bad animation" ugly (though that doesn't help), but like "modern video game BROWNS AND GRAYS ARE AWESOME aesthetic" ugly.
58. Ryokunohara Labyrinth
What is it?: Hiroki and Kanata have been best friends forever. One day, though, Hiroki is hit by a car while saving a little girl. His spirit leaves his body, but the body is still alive, apparently by the influence of a princess or some such who wants to be with him forever. Hiroki must find his way back into his body, or else there will be no doujins.
What?!: Half the OVA is spent on inexplicable musical montages.
Women: They ruin everything.
I'll be honest: I have no idea what in the holy fuck happened in this OVA. I gather that there's a princess who wants to fuck Hiroki's brains out, so she steals his spirit and gives Kanata some empty Hiroki body to keep him busy, or something, but other than that, I'm totally lost. I think the basic message, though, is that het shipping should just stay the fuck out of our boy x boy shipping.
59. Skelter Heaven
What is it?: From the makers of Mars of Destruction comes another short OVA about a group of freedom fighters taking on a mysterious invader, only with a story even more confusing and inexplicable, and more AWFUL CGI YAAAAAAAAAY.
What?!: Needs more classical music!
Like "The Barber of Seville Overture"? Yes.
I watched this only a few days ago and forgot everything that happened, except for the parts that involved hilariously ugly CGI. It might have broken my brain, actually. As I was watching this, there was some small part of me that would sense the subconscious portions of my brain rewriting reality so that I could forget exactly what I watched. Not that it's necessarily worse than anything before or after; it's just that my brain thought it preferable to just chuck the information out as I received it.
60. Hanoka
What is it?: This takes place on a faraway planet where human beings nonetheless exist. Humans are fighting against aliens who want to get rid of them because they're destroying the environment and so on. But the humans have a secret weapon in the form of a girl who is part-human and part-alien, and therefore really strong. It's the Super Saiyan Hybrid Rule: Gohan is the strongest Super Saiyan because he's got those Saiyan and human genes working together.
What?!: It's also the first TV anime made using Adobe Flash, so as you can imagine, it looks great.
The Kare Kano School: Of flashbacks and recap, that is.
I don't want to rag too much on how Hanoka looks. Whenever you hear something like, "This is the first [insert medium here] to use [insert technology here]", that doesn't usually mean great things. So Hanoka looks like crap. Whatever. It's too bad the story matches. To be fair, though, nobody should expect a 12-episode anime that has an average run time of 5 minutes per episode (including OP and recap) to be more than a bundle of cliches and stock characters. I'd write more, but just thinking about this is putting me to sleep.