Katsuhiro Otomo is best known for Akira. He wrote the original manga and directed the subsequent movie. It's a rather divisive piece, being baffling and demented, but it totally blew my mind when I first saw it. When it comes to Akira, most people remember the dark and gritty stuff. The cyberpunk post-apocalyptic Neo Tokyo, the biker gangs, the giant mutant baby thing. What's rarely commented on is it's sense of humour. It can be rather difficult to spot under all the dementia, but it's there. A dark, evil sense of humour that brings out more of a wry, knowing smile than belly-aching laughs.
But it's not Akira I want to focus on here. It's some of his other works, where his dark sense of humour is much more to the forefront of the piece.
Roujin Z is a criminally underrated movie (well, technically an OVA, but it's an hour and a bit long episode, so it might as well be a movie). It isn't directed by Otomo, but he did the script and mecha design. Not that it's much of a mech. It's a collection of strewn vehicles, molded together into an ugly yet unstoppable machine, intent on visiting the beach. The story is set in the future, where an ageing population has resulted in a great strain on healthcare and nurses. In order to take the strain off nurses, a company plan to introduce a new machine to take care of the old people's needs. However the prototype machine goes out of control, and here you have your story. In massive contrast to Akira, the movie is incredibly light, fun, very accessible, but with enough depth and meaning to it that it sticks in your mind as something slightly more than mere throwaway entertainment. I really can't recommend it enough.
But I'm here to talk about the dark sense of humour of Otomo, and there's one brilliant scene in the movie that exemplifies that. While showing off their new prototype, the company get a senile old man and shove him in the machine. The machine is then wheeled in front of a crowd of journalists and fellow scientists in a lecture hall in order to show off its capabilities. The man is stripped by the machine to change him into his pajamas, helped to go to the toilet while lying in place, had a television shoved in front of his face, and basically treated like a part of the machine rather than a person, all while an adoring crowd ooh and aah at the machines prowess and take pictures. It's such a gloriously dark commentary on societies attitude towards old people, all played through this upbeat filter.
Most of his other work have this dark sense of humour too. Stink Bomb is again not directed by him, but he writes the script. A It's part of the Memories OVA, and often gets overlooked because the first piece of Memories, Magnetic Rose, is so damn good. Stink Bomb is a very similar piece to Roujin Z. Unaware weapon of mass destruction goes on the rampage while hapless army attempt to stop it. Again, it's very light hearted , but there's this great underlying message to it. How the gormless average salaryman is left so out of the loop of what he's working on that he can sometimes cause unbelievable amounts of damage, simply because nobody told him what's at stake.
If you want to know whether you'd like his work, check out the opening to Robot Carnival. It's just 5 minutes long, and has that same great dark sense of humour hidden beneath this light hearted jolly exterior.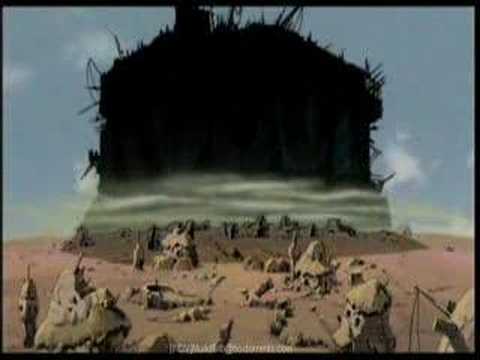 This feeds into a nice segway as to why I don't like Steamboy. It was made in 2004, directed by Katsuhiro Otomo and looks absolutely beautiful. It's a steampunk fans wet dream. Clockworks and gears and steam set in 19th century England. There's no doubt it looks glorious. But there's absolutely no sign of Otomo in there. It's played entirely straight faced the whole way through. None of that false joviality, hiding a darker truth. None of the tongue in cheek. It wears all its intentions on its chest. What's worse, it comes off as stupid. The plot is really quite lame, with the message about science being used only for good being boldly stated outright by one of the characters. There's no attempt at subtlety in there. With its pretty visuals but stupid idealism and boring characters, it comes off more as a bad attempt at a Ghibli film instead of Otomo.
Maybe I'm thrusting unfair pre-biased notions of what the film should be like on it. But it's still a poorly written and rather stupid film. I just found it astounding and disappointing that it came from a guy I associated with usually such skilled writing.