I definitely wanted to blog the Hunter x Hunter remake from the start, especially since I ended up enjoying the original series so much, but I didn't want to make definite plans before watching the first episode — however, Madhouse has done exactly what I hoped it would do with the premiere, so here I am! I'm hoping to stick with Hunter x Hunter for as long as it goes, whether that's 60 or (god forbid) 600 episodes from now!
Now, while I enjoyed Hunter x Hunter, I have to admit I wasn't that fond of the early portion of the series. I can respect that it's a bit slow for the purposes of character development — you get more insight into Gon's decision to become a Hunter, Mito's relationship with Gon and why she is reluctant for him to become  a Hunter, Gon's affinity with nature, and so on. There's also a bunch of stuff skipped with Leorio and Kurapika that develop their characters a bit more and doesn't make it feel quite so random that Gon is thrown in with them on the way to the Hunter Exam.
But at the same time, I can live with skipping that stuff, because it's still very standard shonen-type stuff, and what makes Hunter x Hunter stand out is that it's a very twisted, dark tale masquerading as a lighthearted shonen adventure. The shonen trappings, at least from what I gleaned in the TV series, are the creators priming the viewer's expectations and then putting the screws to all these lovable shonen archetypes. Gon's the plucky, adventurous kid; Leorio is the goofy lecher; and Kurapika is the serious kid seeking vengeance. They all get put to the test eventually, though. (By the way, Kurapika is a dude. Miyuki Sawashiro is just a touch more feminine here than Kurapika's original seiyuu, haha.)
So I hope Madhouse is able to burn through the less compelling material at a solid rate without making everything too confusing or anything. I watched this first episode with Emily and Vuc last night, and neither has seen nor read Hunter x Hunter before, but both seemed to get the basic gist of what was going on, which makes me confident in Madhouse's ability to condense the early material in an understandable way. That's definitely the danger with burning through story at a crazy pace: You don't want to leave the viewer behind and have them thinking, "what is this I don't even" the whole time. Good thing there's not too much jargon and shit when it comes to Hunter x Hunter's world building.
As for the actual content of this episode . . . pretty solid. Again, definitely standard shonen stuff: Gon wants to go on a fuckin' adventure and become a Hunter because that is some badass fuckin' shit, yo. You've got Leorio and Kurapika demonstrating how awesome they are, and immediately developing a connection with Gon because he's awesome like that. You've got the Hunter Exam beginning in earnest. We're off to the races, people. The music is definitely more bombastic and adventure-like than the original series. Not sure if I like it more, but it's not unwelcome.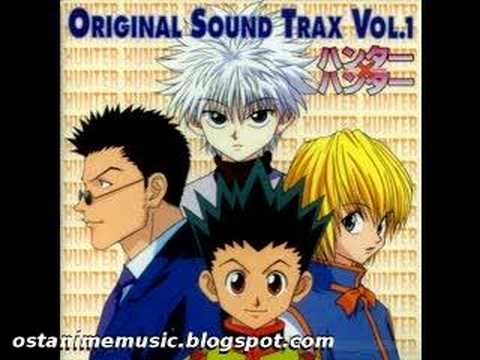 I'm definitely going to miss this track, though. Such a perfect punctuation for the super dramatic scenes. Love the hell out of this song, man. LOVE IT.
But, yeah, my spirits are lifted at seeing a solidly put together debut episode. Really looking forward to how Madhouse approaches the parts I enjoyed most in the original — there's one fight in particular I REALLY want to see, because I can't imagine how anyone could top its presentation in the first series. But I'm approaching it with an open mind!