There are many blogs participating in the 12 Days event. We have gathered many of them for your convenience. Let us know if we've missed any!
Ambivalence, or Is It Ambiguity?, Anime Aura, Animees – Nederlands Anime Blog (non-English), Anime Viking, Avvesione's Anime Blog, Beneath the Tangles, black★mage shooter, Caraniel's Ramblings, Chikorita 157's Anime Blog, Chromatic Aberration Everywhere, Cure Blogger, deluscar, Desu ex Machina, Draggle's Anime Blog, Fnzna Side Dish, Hungry Bug Diner, Ideas Without End, Illogicalzen, Leap250's Blog, Liquid Velocity (non-English), Loli Salad, Lost My Thesis, Lower Mid-Table, Mainichi Anime Yume, Mecha Guignol, Metanorn, Nigorimasen!, The Null Set, Oasis Crossing the Book of Friends, Oishii Anime, O-New, The Otaku Spot, Paper Chimes, Perpetual Morning, Pretense With Glasses, Random Curiosity, SatchiiKoma, Shades of Grey, The Shallow End, Shameful Otaku Secret, Shibireru Darou?, Single Serving, Something Eternal, Standing On My Neck, Subdued Fangirling, Swabulous Max, Those Damn Cartoons!, Touniksen Anime Blog (non-English), Traveler On Revenge, Watashi wa bucho!!
Happy Science is . . . weird. For those who don't know, Happy Science is a religious movement in Japan that has often been compared to a cult. Perhaps similar to Scientology here in the United States? Where Scientology gets involved with making shitty science-fiction movies starring John Travolta, Happy Science is content to produce (often shockingly well-crafted) animated movies that presumably extol their specific virtues. I say "presumably" because I never quite know exactly what Happy Science is trying to say. The most common theme in their films is that there is a character who is the reincarnation of every well known spiritual leader in history, from Jesus Christ to the prophet Muhammad to Buddha and so on.
Another common theme of Happy Science movies is that they are two-thirds boring nonsense, and one-third utter insanity. That insanity is what makes Happy Science movies worth watching. It's like seeing a great troll: I have no idea whether it's actually serious or not. I'm just . . . blindsided. Perhaps you are right now, too, because I imagine your attention has been fixated on, yes, Adolf Hitler in the above screenshot. That is indeed the architect of World War II you are seeing, and he has an important part to play in what is perhaps Happy Science's weirdest movie, The Laws of Eternity.
Basically, a group of kids get a tour of Heaven from a Native American after using a spirit phone invented by Thomas Edison. If you're a hardcore geek, perhaps you believe Edison stole this phone from Nikola Tesla, who would have led us into a golden age with it. Unfortunately, two of the teenage spirits trip and end up in Hell, where they are met by the spirits of Hitler and, for some reason, Friedrich Nietzsche. (I guess because of the whole "God is Dead" thing?) The tallest, whitest, most handsome teenager battles Hitler and Nietzsche to get his friend back. How? He summons an angelic mecha, while Hitler and Nietzsche command a demonic elephant. It's utterly fucking ridiculous, but also AWESOME, because I'm pretty sure I had a dream about this once in my life. Maybe the Happy Science folks had a dream about it, too. Who knows?
The point, of course, is that watching an angel mecha fight a hellephant is awesome. This is actually a much better way of convincing me to join a cult than any presentation of spiritual policy. I am in your hands, Happy Science. Treat my body and my soul well.
You would all like to join the cult of Happy Science, too, yes? Have a peek, friends!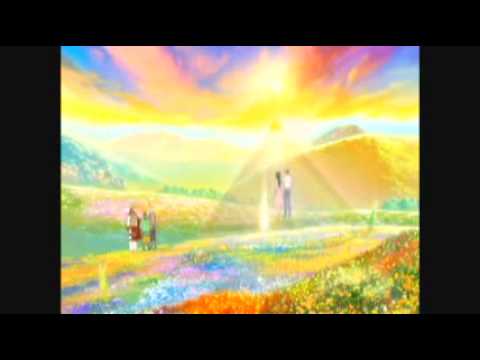 Amen.