What have I gained by running an anime blog. Vastly improved writing skills? Self-actualisation as an otaku? The respect and adoration of millions of anime fans? Sure I've achieved these things (or at least, on the way to achieving them) but these are all intangible gains. Great for the soul but worthless for the wallet. This year, having an anime blog got me somewhere. Hosting a space where I write about anime on the internet gave me something tangible.
It started way back in January when, out of nowhere, I was notified that I was nominated for the Irish Blog Awards. I've still got no idea who nominated me and originally I was rather dismissive, thinking that a blog about foreign cartoons was not the sort of material they were looking for prospective winners. Yet I made it through the shortlist and into the final round of judging, up for a spot as the best youth blog (19 apparently meaning you're a youth, which rather surprised me). I'd even got myself hyped up for a prospective resounding victory, only to fall at the final hurdle to some nobody. Not that I'm bitter or anything. Why would I care about getting an award from that bunch of circle jerkers anyway?
Some of the Irish bloggers, or people who kept an eye on the Irish blogosphere, must have noticed clear brown paper envelope pushing that resulted in the grave miscalculation in the result. Word of mouth spread about this Irish Anime Expert, eventually reaching the ears of a project called Ignite. The person who ran the event, a fella called Conor Noughton, e-mailed me and asked me to take part in this project of his called Ignite. In it, experts from various fields gave 5 minute presentations with a slide show that includes 20 pictures, each one staying on the screen for 15 seconds each. It forces the speaker to really shoot through their subject and keeps it short enough to keep it interesting.
As you can probably tell, this story has been fabricated in parts. I'm not entirely sure how I got from a runner up in the Irish Blog Awards to taking part in Ignite, but suddenly I was there. At Electric Picnic, a music festival for people far too artsy to see 'popular' bands, in the science tent of the spoken word section of the festival, talking about cartoons. There was me, some kid with a big mouth on the internet, mistaken for an expert and giving a talk alongside people who actually were inside their respective industries. The curator of the Cork Art Museum. A lecturer for genetics in Dublin City University. BP Fallon, a guy with his own friggen Wikipedia page, who was the publicist for Thin Lizzy and U2 at different stages. U-fucking-2! (amusing titbit about BP Fallon: He missed his cue to go on stage and they had to move him to a later slot because he hadn't finished his joint). And in amongst all them was Scamp, The Cart Driver. Petrified I'd trip over the microphone stand, or that everyone would start talking amongst themselves as I explained Miyazaki's significance.
But hey, I did it. They paid attention, laughing at Miyazaki's infamous samurai sword he sent to Disney with Princess Mononoke. More importantly though, I had gotten into this festival for free. Once I had attended my duties, I could enjoy myself. Not that I had any interest in the pretentious music played at the festival. I spent my time camped out in the comedy tent, watching famous stand ups (well, famous in Ireland anyway) like Regineld D. Hunter, Karl Murphy, Gift Grub, Rubberbandits (the guys who sing the horse song that the public are trying to get to be Christmas number 1 in the UK and Ireland instead of the X Factor song) and a host more. A ticket to all this would have cost me about €200. My moment in anime #11? The Cart Driver getting me a free ticket to see stand up comedy acts.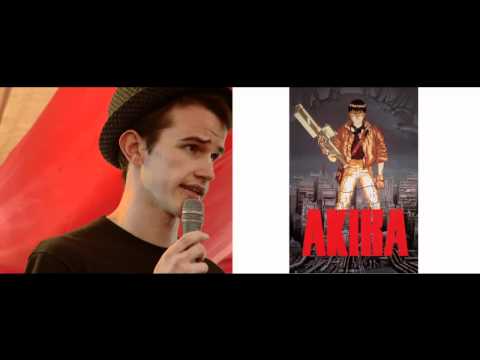 Oh, and here's the video of my talk. I didn't want to put it up on the blog originally because I was embarrassed by my endlessly waving hands. But I guess, after 30 months in the blogging business, it might be nice for my readers to get the face behind the name Scamp.