A quick attempt to collect all the bloggers taking part in the 12 Days of Anime project. Sorry if I miss anyone.
Perpetual Morning, Illogicalzen, Yaranakya, Pedantic Perspective, Isn't it Electrifying, Michi's House of Leaves, Toxic Muffin, What is this 'culture' you speak of,  Avvesione's Anime Blog, Subdued Fangirling, The Absolute Destiny Ablogaclypse, Geekorner, The Beautiful World, Fantastic Memes, Beneath the Tangles, The null set, Lower mid table, Nigorimasen, Anime Viking, Satchiikoma, Swabulous, Mecha-Guignol, Standing on My Neck, The Untold Story of Altair and Vega, Caraniel's Ramblings, Ray-Out, Anime is Dead, Atelier Emily, Otaku Journalist, Anime Diet, Anime Monographia and Draggle's Anime Blog. Also a quick search on youtube will show you that youtubers have their own 12 days project that follows the exact same formula with the exact same idea, which I guess is because both circles are following the same original idea by Mega Megane Moe. The blog may be dead but his spirit lives on~!
Nadeko Sengoku was the worst girl in Bakemonogatari. She was the star of the worst arc with the most boring personality that felt like it was devised solely to appeal to paedophiles with onii-chan fetishes. I accept we have differing tastes, but saying Nadeko was not the worst girl is like saying you prefer the smell of rotting eggs to the smell of melting chocolate.
So what does Monogatari Second Season do with her arc? Make her relatable and sympathetic, temporarily turn her into an angry banchou chick, then turn her into a psychotic yandere snake god. Best character arc ever.
Part of the reason why Nadeko's arc is great is it basically admits her original arc made for a terrible character. More specifically, that people who view a person solely through how cute they are is limiting their humanity and their personality. Telling the story from Nadeko's perspective we start to see how restrained she feels by that label, and all you losers fapping yourself silly over how goddamn kawaii that opening song was are being judged for how quick you were to attach that label to Nadeko. Once she finally got the chance to spread her wings a bit and be anything other than the cutesy girl was when her bangs were cut.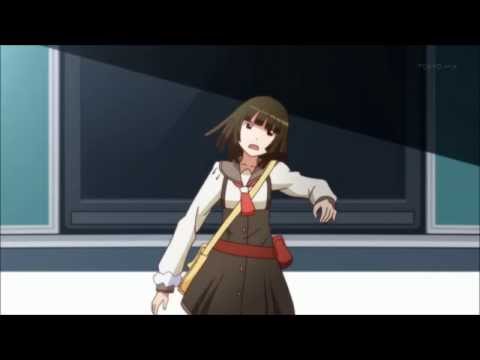 And oh how brilliant that moment was. With a fantastic EEEEEHHHHHHH screech interrupting every other sentence, KanaHana's voice shifted from demure to majorly pissed off. Kicking doors down and screeching surprisingly coherent arguments at teachers and classmates in the style usually reserved for delinquents with pompadours. I had a giant grin spread across my face throughout the entire scene. Nadeko was no longer worst girl, and she managed it by directly combating what it was that made her worst girl in the first place.