The 26th of December is the suckiest day of the year because it's the furthest away from Christmas you can get. So, as per tradition, what better day to 'celebrate' the truly horrible moments of anime in 2012. In the past I've called them moments of HATE, but as I said earlier, this year I just haven't felt quite as angry about shitty anime. However that doesn't mean there wasn't still some prime examples of terrible writing in anime this year.
Bear in mind that I didn't keep watching already bad anime, so you won't see any Guilty Crown or Sword Art Online on this list. A few of these are for some anime that are otherwise pretty good. But these specific moments in the anime are still terrible.
10: Bread of Happiness
I can't get too mad about Bread of Happiness because what else were you expecting? An adaptation from game about bread baking to be anything other than a load of shallow nonsense? The only thing that was surprising was just how vapid it was. The 3 main female characters had about half a brain cell to share between them, and seemed to suck in personality into their exact same facial expressions and character designs, same-facing their way apparently entranced by the main character's juicy succulent bread. Bread of Happiness is the worst first episode I've seen this year. For that alone, it really deserves a spot on this list.
9: Speedwagon being totally useless
You know I'm scraping the bottom of the barrel when one of my moments comes from the otherwise awesome Jojo's. But yes, Speedwagon is useless. Please tell me why Speedwagon needs to be with Jojo. What does it serve to have him tail Jojo around that couldn't have easily been solved by having a disembodied narrator. Roughly 100% of the things he said are clarifications of what's happening on screen. His involvement in the battles are to get in Jojo's way, to warm up a cold hand, and to hold Jojo's sword. He could have easily been replaced by a rock, a slab of meat, and a belt respectively. Thankfully in the second half he was captured and tortured by Nazis, which I consider to be the perfect place for his character to be.
8: Seeing Blood-C uncensored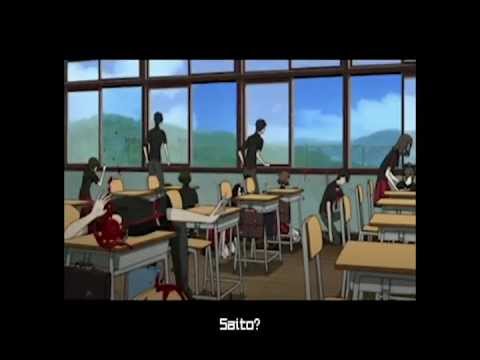 Now taking moments from anime I didn't even watch this year. I saw the first episode of Blood-C, thought it was boring and never touched it again. From reading reviews though, I heard about what happened and how drastically it changed into an all out gore-fest. This year I saw the uncensored clips from Blood-C and they have been burned into my mind since then. I'm hardly a stranger to ridiculous anime violence. I've seen plenty of those stupidly hyper violent OVAs of the 80s and early 90s, including stuff like Violence Jack and Apocalypse Zero. But there's something more brutal and unflinching about the violence in Blood-C that is genuinely unsettling. I want to unsee it. Why can I not unsee it!?!
7: WHO IS IMOUTO cure the gay
Complaining about WHO IS IMOUTO being bad is like complaining about someone's fart not smelling nice. Of course it's not going to be good. It's a light novel adaptation with the word 'imouto' in the title. However even by those standards, this moment still shook me from my stupor to question whether I had read the insipid dialogue correctly from the subtitles. Did the girls really say they were going to cure his gay? In another anime it might be self-aware in how it brought this idea to the table, but WHO IS IMOUTO is so culturaly backward, where the ideal woman is a braindead baby-maker, that you realise it's being serious with this. Sure it's born from ignorance rather than a place of genuine malice, but seeing it actually play out was a bit like suddenly seeing a black minstrel in a modern TV show.
6: Haru is the new Nessa
As much as I might have appreciated the visual style and creativity of Tsuritama, the two male lead characters are so astronomically dense that I couldn't enjoy the show. Genuinely cataclysmally thick, incapable of thinking straight about anything, their minds befuddled by the simplest of mental tasks. There's a difference between social anxieties and actual mental disabilities, for which these guys would give the Little Busters girls a run for their money. Haru in particular, I swear he said the exact same lines as Nessa from Fractale did. Haru loves love! Haru hates hate.
5: Moyashimon Returns final episode
Be careful what you wish for. If I had to choose an anime to get a sequel, and it wasn't allowed to be something written by Ryougo Narita, it would have been Moyashimon. It's not like the staff really changed all that much between 2007 and 2012 either. I'm still reeling a little from what the hell happened with this season of Moyashimon. It was so lifeless, tedious and…sexless! Something about that final episode where the characters all looked at each other saying "gosh, didn't we have such a great time together" was soul-sucking. It was right at that moment that I wanted to reverse time and prevent the sequel from happening, but instead had to sit there in sulky silence.
4: Car crash in Kids on the Slope
Starting to get into the truly bad moments that did make me legitimately angry now. I liked Kids on the Slope for the most part. When it focused on the music playing part, I wanted to cry to the heavens about how the king had returned. It's just a shame these music segments had to exist in the same anime that had the dumbest friggen melodrama this side of Ano Hana. The scene where Sentarou gets hit by a car was so stupidly mawkish and out of nowhere, I thought it was a joke for a while. This is the kind of thing you see parodies of this genre do! Where a character out of nowhere gets hit by a car! No actual show does this for real, do they? I guess Kids on the Slope missed that memo.
3: Accel World is shallow wankery
Much to many people's dismay, I won't be having any Sword Art Online in this post. Part of the reason why I bailed on SAO so early on was because I'd seen these first 2 episodes of Accel World and felt I already had a pretty solid grip on what this writer's forte was. It's the most blatant piece of loser teenage male wish-fulfilment I have ever seen anime produce. It eclipses every other shallow harem bullshit by the depth of fanboy wankery it goes to. Are you a fat loser who is only good at video games? Well great, because here's a show where that ability gets you all the hot ladies! I've heard his books described as Twilight for Teenage Boys, and that fits it quite nicely.
2: THE SKY IS BLOO!
You know the way the first segment of Literature Girl in Daily Dudes had the two characters spouting nonsense in an attempt to sound profound, but in their heads they realise how utterly stupid they sound? That's the opening segment on Black Rock Shooter. No seriously, go watch it again. When you have Literature Girl in your mind when you watch Black Rock Shooter, it becomes the height of ridiculous comedy. This is the secret value of Daily Lives of Highschool Boys. It's knowledge in your mind utterly destroys the poorly written nonsense attempting to be deep but not really understanding how to do so.
1: Rea in the Bunny Suit
This scene was a lock in at #1 from the second it happened. It's one of those amazing moments that utterly destroys the entire point of the show with one single dumb swoop. The only other anime I can think that did this so smoothly in one single move was the ending of Abenobashi, and when your ending is being compared to Gainax endings, you know something has gone horribly wrong.
Let me lay out the story of Sankarea for you. Rea lives under her abusive father who only treats her as an object of his ideal creation. She lives an unreal life where her only escape ironically comes from dying and being resurrected as a zombie. She moves in with Chihiro, who is built up in the story as someone who actually listens to Rea. Thing is, Chihiro doesn't really treat Rea as anything other than an object either. She's a hot zombie chick. But I suppose what they could do is have Chihiro develop to see Rea as a person too.
But nope. In the climactic scene where Chihiro faces off with Rea's dad, Chihiro yells about how he only treats Rea as an object while Chihiro treats her like a person. Right at that moment, Rea bursts in wearing a bunny suit, and Chihiro goes "dur hur hur bunny suit on a zombie so hot". It's such a backlash from what had been going on, utterly destroying the entire point of the ending scene and the entire point of the story all for the sake of one dumb fucking joke. What this director managed to do with a manga as shitty as Sankarea is nothing short of a miracle. Based on the early episodes, Sankarea would be easily in my top 3 anime of the year.  I wish they had taken a bigger risk by ignoring far more of the manga's original material. But they didn't, because then manga fans would complain. That's why we get story-breaking scenes like this. I mean yes, it had been coming for a while, and there was always a disconnect between what the story was trying to achieve and how Chihiro treated Rea, but I wasn't expecting them to blatantly clash like this in what was supposed to be the narrative conclusion.